School governors are people from the school's community who wish to make a positive contribution to children's education. They must be aged 18 or over at the date of their election or appointment. Persons under 18 may become Associate Members. There is no upper age limit.
Governors form the largest volunteer force in the country and have an important part to play in raising school standards through their three key roles of setting strategic direction, ensuring accountability and monitoring and evaluating school performance.
"A governing body's overriding responsibility is to work in partnership with the Head Teacher to promote continuous improvement in the performance of the school. This involves the establishment of a development plan, the setting of challenging but achievable targets and the interpretation of information to access progress and determine appropriate action. Aligned to its improvement role, the governing body is there to be a critical friend who can provide the right balance between supporting and challenging the performance of both the Head Teacher and the school." School Governor Recruitment Toolkit
---
We are grateful to our Governing Body for their ongoing support and guidance. The Governing Body is Chaired by Julia Brown and she is supported by Vice-Chair, Ali Paterson.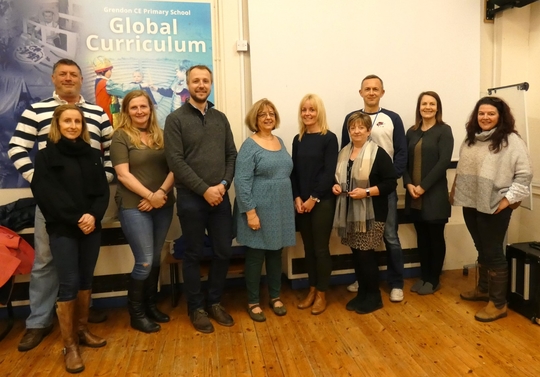 | Name | Role |
| --- | --- |
| Julia Brown | Co-opted Governor |
| Lee Butcher | Co-opted Governor |
| Dan Carter | Parent Governor |
| Kate Dudley-Smith | Co-opted Governor |
| Charlotte French | Co-opted Governor |
| Sara Nixon | Foundation Governor |
| Ali Paterson | LA Governor |
| Jenny Sim | Staff Governor |
| Emma Aylesbury | Parent Governor |
| Louise Tyler | Co-opted Governor |
| John Wayland | Head Teacher |
| Rev Paula York | Foundation Governor |
It is a statutory responsibility for schools to publish information on governor attendance at full governing body and committee meetings. This information is shown below with governors identified by their initials.
FGB meeting attendance 2018-19
25.09.18
13.11.18
22.01.19
12.03.19
30.04.19
09.07.19
JB

y

y
y
y
LB
n
n
y
y
DC
y
y
y
y
KDS
n
y
y
y
CF
y
y
y
y
SN
y
y
y
y
AP
y
y
y
y
JS
y
y
y
y
LT
y
y
n
n
JW
y
y
y
y
PY
n
n
n
n
Curriculum Committee meeting attendance 2018-19
19.09.18
31.10.18
16.01.19
06.03.19
01.05.19
26.06.19
LB
y
y
n
y
-
CF
y
y
y
y
-
SN
y
y
y
y
-
AP
y
y
y
y
-
JS
y
y
y
y
-
JW
y
y
y
y
-
Finance Committee meeting attendance 2018-19
20.09.18
01.11.18
17.01.19
06.03.19
25.04.19
27.06.19
JB

y

y
y
y
y
DC
n
y
n
y
n
SN
y
y
y
y
y
JW
y
y
y
y
y
EA
na
na
na
na
n
Premises, Health & Safety Committee meeting attendance 2018-19
17.09.18
12.11.18
18.01.19
04.03.19
29.04.19
24.06.19
LB
y
n
n
y
y
KDS
y
y
y
y
y
AP
y
y
y
y
y
JW
y
y
y
y
y
Pay & Personnel Committee meeting attendance 2018-19
19.10.18
TBC
TBC
JB

y

DC
y
LT
y
JW
y
Ethos Committee meeting attendance 2018-19
21.11.18
26.02.19
08.05.19
JW

y

y
CF
y
y
PY
y
y
SN
y
y