By some miracle, the rain stopped and the school enjoyed one of its best sports days!
Without doubt, the highlight of the day (apart from the spectacular dad's race 'face slide' - we hope he's alright) was the incredible sportsmanship and spontaneous support that all of the children, without any prompting, showed to every single child as they made their way to the finish line. That is exactly the sort of thing that makes us Primary School Of The Year.
Please send any photos of the day to head@grendon.northants-ecl.gov.uk
Primary School of the Year - Fun Day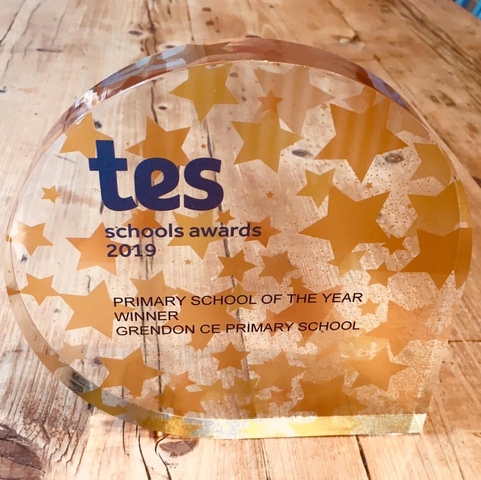 In recognition of our recent success at the TES Schools Awards, the school has organised a Fun Day on Tuesday (tomorrow) for our pupils.
Children will be able to choose from a range of activities including sports games on the school field, a bouncy castle, films in the hall and water games (with our new foam water blasters). Children may bring a small game or toy from home at their own risk and we will provide your child with an ice cream or lolly during the day.
Please do not bring in bikes and scooters.
Children should come to school in mufti and bring a change of clothing/swimming costume, suitable footwear and + towel. The forecast for tomorrow is very hot and so please ensure your child comes to school with sun cream already applied and with sun cream for reapplying during the day, a sun hat and water bottle. School staff will be very mindful of the temperature and will adapt any activities accordingly.
Get Active - Breakfast Club
The recent parent consultation on a breakfast club provision had a low response (9 responses in total). However, Get Active are happy to offer the breakfast club from September on a trial basis - basically, if it is used it will stay, if the take up is minimal, it will cease.
The provision will run from 7.45-8.55am and will be located in the church room (adjacent to the school hall) with access from the main school building. The cost per session is £4.50 and includes breakfast and a drink.
Bookings can be made in exactly the same way as for the after school provision and I have been advised that bookings are live already, so feel free to get booked up!
The current before school supervision run by school from 8.30am in the school hall is separate to Get Active and will continue unchanged.
| ANSWER CHOICES | RESPONSES |
| --- | --- |
| Every day | 11.11% (1) |
| | 55.56% (5) |
| | 22.22% (2) |
| | 0.00% (0) |
| | 11.11% (1) |
| TOTAL | 9 |
Last Few Dates!
Leavers' Assembly
Wednesday 24th July 9.30am
______________
Family Picnic
Wednesday 24th July from 11.30am
Weather permitting, we will open the school gates at 11.30am for families to set up their picnics in the school grounds. Children will all come out around 12.00 o'clock. You are welcome to stay as long as you like. Equally, feel free to start the summer holiday slightly earlier once you've had your lunch.
______________
Term Dates for the 2019-20 academic year can be found by clicking here