Hello Visitor,

It's hard to believe that only 10 school days have gone by since the Coronavirus restrictions were imposed. We have moved from the security and relative safety of our normal, structured routines to a strange, uncertain fog where we are losing track of what day it is - it seems much longer than 10 school days, doesn't it? The government has announced this evening that current restrictions will continue for at least another 3 weeks but, beyond that, who knows? What I can say with absolute certainty is that school staff are missing the pupils terribly and can't wait for school to resume.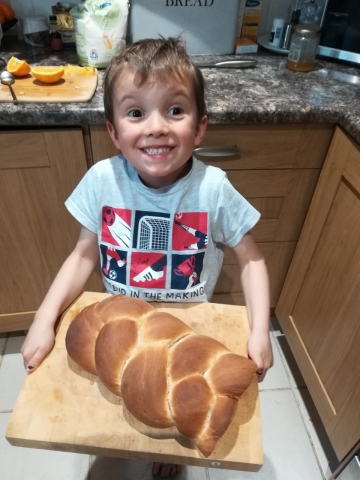 You have all had the huge responsibility of being your child's primary educator thrust upon you and I have enjoyed reading about all of the amazing new things that your children have experienced, like young Arthur here who followed Mrs Read's amazing Facebook tutorial (she seriously needs her own YouTube bakery channel) to make Greek bread - the look of sheer joy on his face as he took the freshly baked Tsoureki bread out of the oven!
In terms of your child's continuing education, there has never been any expectation or even a recommendation that parents will suddenly and perfectly replicate a school day at home. Children are apart from their friends and extended family, their normal routine has vanished without warning, everyday activities as simple as going to the park are off limits and even young children will perhaps know far more about the Coronavirus situtation than we might want to believe. Given this context, if a) your child is happy and safe, b) you have managed to establish a vague backbone of a daily routine that incorporates even a fraction of the school work on offer, c) your child has learnt or experienced something new, and d) you have managed all of this whilst juggling all of the other aspects of your life in these challenging times, then let me tell you that you are winning.
Key Worker Childcare Requirements
School continues to remain open for children of key workers and you can find the relevant form for the WB 20th April by clicking here
Please complete and return your form to school no later than 5pm tomorrow (Friday 17th April).
Schools To Remain Closed Until Further Notice
In response to media reports and speculation that schools would reopen after Easter as part of a phased easing of restrictions, the DfE issued the following statement to schools:
'All early years settings, schools and further education providers will remain closed until further notice, except for children of critical workers and children who are vulnerable. We will only re-open settings when the scientific advice indicates it is safe to do so.'
School Meals
During this unprecedented period of school closures and major disruption, the school has heard from many of our families and the huge pressures that they, and others, are facing. Of immediate concern to us are the families who normally rely on the school's lunch provision to feed their children.
Regardless of whether your child qualifies for Free School Meals, the school would like to hear from our families who are struggling to provide food for their children.
The school can and will help you. If you need our support with providing lunches, or you know of another family who would benefit, I would urge you to get in touch with school by emailing me at where your request will be treated quickly and with discretion.
There is absolutely no way that the school would want anybody to worry about feeding their children or feel that they couldn't ask for help and so please contact us.
In addition to this, I have copied in the link below under 'Pupil Premium' which families can use to see if they are eligible for this additional funding. As well as providing free school meals, the Pupil Premium brings extra funding directly into school to support children's learning - the funding can be used to help the qualifying child with things like uniform, school trips and resouces and so it is well worth exploring.
Pupil Premium
To find out if your child is eligible for Pupil Premium, follow the link here
School Residentials
The Year 2, 4 and 6 residentials planned for the summer term are all sadly cancelled. School has already begun the process of issuing refunds to parents.
Office 365
Many children have already shared work and photos with their teacher and friends via Office 365. To access your child's account, simply log in using For example
Your child's password is Grendon1
Teacher Availability
To take account of continued school opening over the Easter period, teachers and support staff have taken their two week break at different times to each other. This is to allow us to carefully balance staffing rotas for Key Worker children. As the breaks are staggered, it means that some teachers will be available at different times to others. Please don't take an immediate lack of response as an indication that the teacher is ignoring you. Teachers are really enjoying the interaction with parents and any lack of response will be due to them taking a break.
Learning Packs
The Learning Packs on the school website have been accessed literally thousands of times and teachers have been delighted to received emails and photos of the things that your children have been up to.
To supplement the materials already on the school website, your child's teachers have created a range of activities linked to their current curriculum theme. The activities are presented on a Skills Grid which covers a range of subject areas, with associated resources also available as hyperlinks or downloads. The activities have been cross referenced to the curriculum skills that we use in school. The Skills Grids represent 2 weeks worth of work and they will be available in the Learning Pack section of the school website from this Friday (in time for what was to be the start of the summer term).
BBC Bitesize: Daily Lessons
From Monday 20th April, BCC Bitesize will be hosting daily lessons for all age groups and from a range of subjects. You can find more information here.
You will be able to access regular daily lessons in English and Maths, as well as other core subjects, in an expanded version of the BBC Bitesize website and also on special programmes broadcast on BBC iPlayer and BBC Red Button.
Contacting Your Child's Teacher
Many of you have already been in contact with school staff during the school closure period. School staff will continue to be contactable via email and we will aim to respond promptly to any queries that you may have. I have included the main school contacts below for your information.

Stay Safe
The school is aware that our families are being affected both directly and indirectly by the outbreak of Covid-19. Apart from hoping and praying that you and your loved ones remain safe and well, please also know that school will continue to provide a valuable source of support to you now and when we are all back together at school. Please don't hesitate to make contact with us - we want to help and if we can't then we will know someone who can!
I hope that you all had an enjoyable, if different, Easter weekend and that the Easter Bunny successfully carried out its essential work.