Hello Visitor,
What A Difference A Day Makes
It hardly seems possible that this photo was taken this week - our pupils with the London skyline behind them on a beautiful, sunny day. It is in stark contrast to where we find ourselves today but...we have a plan. Quite a few different plans, actually, and all designed to safeguard our pupils.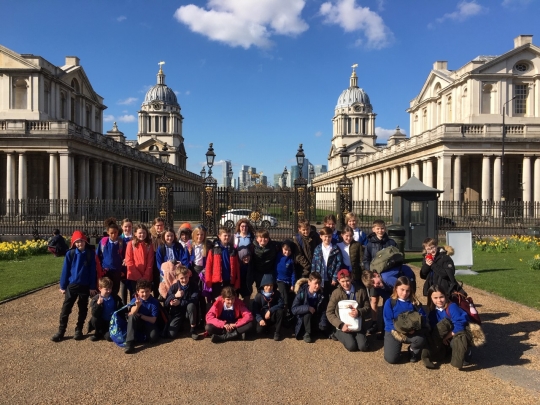 Following on from my last update, I can now provide further details on national school closures.
Key Workers And Vulnerable Children
The government has confirmed that schools should do all they can to stay open for key workers and 'vulnerable' children. It would help us enormously to know how many children we are likely to expect on Monday and so please let school know if you believe that you fulfil the criteria of a 'key worker' or if your child is considered 'vulnerable'. Although the government, at the time of writing, has yet to define a 'key worker' (schools have no more information on this than you), please do let us know if you think you are likely fall into that category.
Please email this information to me at by the end of this week.
It is vital that only those who meet the above criteria attend school - it is likely to prove increasingly difficult to maintain the required adult to child ratios over the coming days and weeks as rates of self-isolation rise. The possibility remains of a full school closure if the school cannot maintain safe ratios and so to give the school the best chance of staying open for the protected groups identified by the government, all other children will need to stay at home after school closes on Friday.
The Education Secretary confirmed this morning that schools will not be required to follow the National Curriculum during this extended period of closure, with the priority more around childcare to safeguard the important role of key workers in supporting the country's response to Coronavirus. Thanks, by the way, to these front-line staff who are doing a brilliant job under intense scrutiny and pressure.
Our school staff remain totally committed to providing the best possible duty of care to our pupils and their families. The school will meet its responsibilities in relation to opening during the Easter holidays for the protected groups described above. Again, the school will be consulting with parents on this as its plans evolve - you will understand, of course, that whilst schools were anticipating closure, they were not privy to the finer details around this such is the speed of developments. I sat with our teachers yesterday waiting for Gavin Williamson to make his address just as I suspect many of you did.
Caterlink Hot Meals
At the time of writing, Caterlink are expecting to be on site to serve what is likely to be a very small number of meals next week. Bookings can be made in the normal way but please be mindful that whilst dietary requirements will always be met, my conversations with Caterlink this morning suggest that the menus may vary from those advertised.
Home 'Learning Packs'
As I mentioned in yesterday's newsletter, details on how to support your child's learning at home will be shared imminently. To be accessible, eco-friendly and manageable, all learning will be set online. School staff have been working hard to prepare the materials and I am in the process of transferring these documents to the school website where you will be able to access them easily. Further information will be provided on the 'Learning Packs' very soon, possibly by the end of this week.
School Contacts
School staff continue to be contactable via email and we will aim to respond promptly to any queries that you may have. I have included the main school contacts below for your information.
Statutory Assessments
The Secretary of State for Education announced that the 2019/20 national curriculum assessments will not take place due to the coronavirus (COVID-19) pandemic.

This means the following assessments planned between April and July 2020 are cancelled:
end of key stage 1 and key stage 2 assessments
phonics screening check
multiplication tables check
science sampling tests
all statutory trialling
I am very confident that the performance information that teachers in our school collect throughout the school year will provide an extremely accurate picture of every child's academic achievements and we will ensure that the necessary information is communciated effectively as pupils make the next steps in their education. Please do not spend any time worrying about this aspect of your child's transition.
Residentials
The school has 3 residentials scheduled to take place in June and July. At the time of writing, all bookings still stand. The school will continue to communicate with the Frontier Centre (Year 4) and MacQueen House (Year 2) and will inform you immediately of any change to the plan. The YHA have agreed to give a full refund on any cancellations made right up to the time of our trip to Perranporth and so I intend to leave this decision as late as possible to give our Year 6s the best opportunity of going and in the knowledge that we will get our money back.
Pupil Profile
Given the timings around school closures, the disruption to planned activities and the uncertainty over when normal schooling will resume, Pupil Profiles will not be issued until the end of the Summer Term.
Thank You
The learning experiences for our pupils since returning from half term have been exciting and enjoyable - there has been little evidence to date to suggest that Coronavirus has derailed our ambitious plans for your child's education and our number one focus in terms of learning in the classroom has been to maintain a sense of normality and 'business as usual'.
School staff have been discerning in how they have shared information about Coronavirus with pupils - the children have been taught how to hand-wash properly, catch sneezes and bin dirty tissues and although I did see a child simultaneously washing their hands brilliantly whilst also licking a mirror, their response has been great overall. We have engaged in discussions with pupils about Coronavirus whilst also trying to deal with misconceptions and insulate them from some of the more sensitive content that seems to be all around us. It is a fine balancing act but I know that our pupils are getting a really good deal, supported by fantastic, caring teachers and support staff.
Parents have a huge part to play in supporting learning and helping to maintain the relative calm. I am so grateful for the sensible and measured way in which parents have responded to the current situation and for the support that they have shown the school whilst it has implemented wide-ranging measures with only minimal notice, especially when the impact of these decisions is felt by so many.
I am sure that the current situation will continue to change quickly and I thank you in anticipation of your continued support.