Hello Visitor,
A Letter From The Department of Education
The school received a letter today from Nick Gibb, Minister of State for School Standards, congratulating staff and pupils on the 'very high standard of achievement demonstrated in the reading and writing Key Stage 2 assessments last year'.

For 'achievement in reading and writing, Grendon CE Primary School is in the top 1% of primary schools in the country'.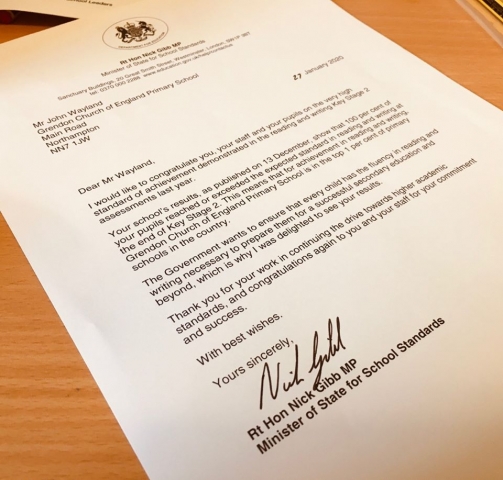 Open Afternoon
The school will be holding an Open Afternoon on Wednesday 12th February at 1.30pm. Pupils are reaching the end of their current curriculum themes and they are very keen to share their learning with you. The Open Afternoon will begin in the hall with some musical presentations and you will then be free to explore the school and see what the children have been up to.
Willow Class (Year 5/6) are running their Business Enterprises, this time linked to their curriculum theme of Mexico. More about this below...
Business Enterprise
Year 5/6 pupils faced the Dragons' Den on Wednesday, pitching for loans to finance their Mexican themed Business Enterprises. The groups have been working very hard over recent weeks and prepared persuasive letters, food samples, detailed spreadhseets showing gross and net profit and they presented their ideas brilliantly. The children dressed for the occasion and looked very smart - also probably the first time Cooper and Gus have been spotted in long trousers. The dragons (me, Mrs Breslin and Mrs French) heard all about the children's expertise and prior experience of running enterprises lower down in the school. We were also surprised to hear that one group had used a bit of artistic license, talking about how they had run successful food stalls at the Glastonbury Festival and had apparently 'made quite a name' for themselves J
You will all be in for a treat at Open Afternoon because all of the groups secured the funds they need to go ahead with their enterprises and so you can expect to find a range of food for sale including nachos with cheese, salsa and guacamole, delicious vegetarian chilli, beautifully decorated cookies and shortbread, freshly baked bread with an orange glaze, tasty burritos with rice, black beans, onion and spinach and amazing fajitas served in a lettuce leaf!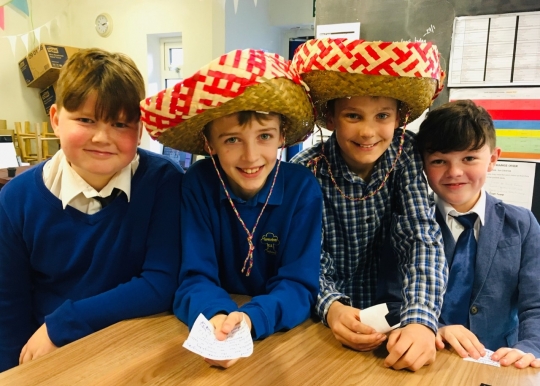 A Plea For Help!
FOGS are busily planning their involvement in the Ashby Cluster Fun Run (more information to follow) and they are urgently seeking a company or individual who can help them to print a large quantity of A5 colour programmes for the event. The priovisional date for the Fun Run is in March. If you think that you may be able to help or know someone else who can, then please get in touch with school in the first instance and we will pass on your information to FOGS.
Training Day & Half Term Childcare
School is closed for a training day on Friday 14th February.
Get Active are running February Half Term childcare sessions in school from Monday 17th February. More details can be found on their website or by clicking here
St Mary's are running a 'Messy Church' session on Friday 14th Feburary. Details for this can be found here