Hello Visitor,
Afternoon Tea Thanks
The school has been inundated with letters and cards of thanks for the recent community afternoon tea. Feedback from the event praised the children's work that they shared, the music that they played and, above all, the impeccable manners that they all showed whilst they served refreshments and chatted to all those who came. Other adults who helped with the organisation of the afternoon tea were also singing the children's praises. The school looks forward to repeating this event in the not too distant future.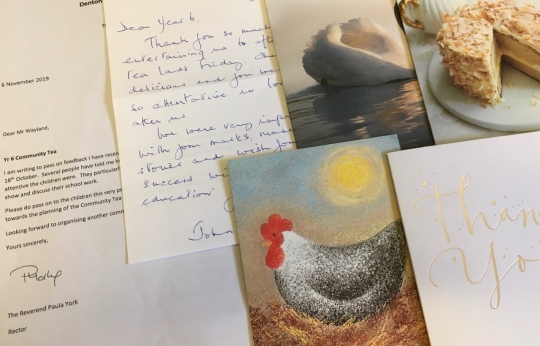 Poppy Appeal
The Poppy Appeal fundraising was a success - many thanks for supporting this cause. Following an assembly on Thursday morning, some of our older children sold the items to all of the school pupils. All of the money was collected in the Poppy Appeal container and so we are not sure how much was raised - all I can say is that it was very heavy and the box of goodies was nearly empty!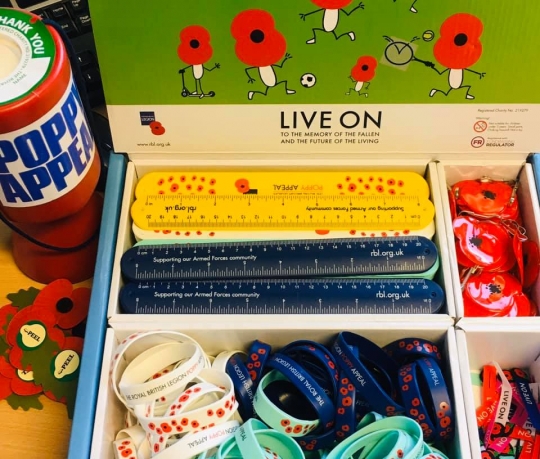 Children in Need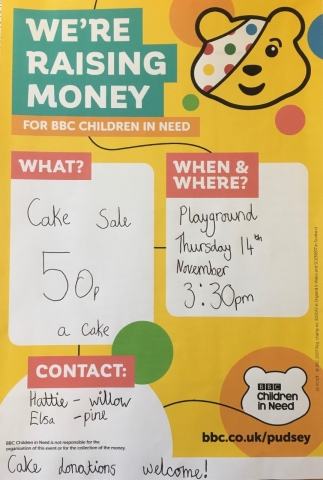 On Thursday 14th November, the school are holding a Children in Need Cake Sale, courtesy of Elsa and Hattie.
You may remember that, last year, the girls organised a similar cake sale and they would like to do it again!
You will see posters (like these) dotted around school.
If you would like to support this event, please send in cakes that Hattie and Elsa can add to their stall.
_____________________________________
On Friday 15th November, the school will be holding a mufti day in return for voluntary donations which the school will send to Children in Need.
Christmas Dates
You will be able to find all key dates on the school calendar at www.grendonprimary.net
As a quick reference for you, the main Christmas events are listed here:
Friday 6th December Christmas Theme Day
Christmas Mufti (in return for a FOGS raffle prize) and Christmas arts and crafts all day!
Friday 6th December at 6-7.30pm FOGS Christmas Disco
See separate information from FOGS
Saturday 14th December Santa's Workshop & Grotto (FOGS)
See separate information from FOGS
Monday 16th December at 6pm Christmas Show (Years 1-6)
Performance at Wollaston Secondary School - more details to follow
Wednesday 18th December at 4pm Reception's Nativity
Performance outside in the Early Years area
Friday 20th December at 9.30am TBC Carol Service in church
Come and join us for in church! Mince pies and tea/coffee will be served from 8.45am
Friday 20th December at 12pm Caterlink's Christmas Lunch
Booked in the same way as normal hot meals!
Lost items
Zachary Dicks-Jones has lost his black, Nike trainers with his name in and Leo in Reception has lost his jumper with his name in! At the time of writing this newsletter, the school's text service was down, hence the lost property plea here.