Hello Visitor,
Harvest Thanks
There was another packed church for the school's harvest service on Monday! A huge amount of food was collected for the Daylight Centre and £122 was raised for the school's social enterprise in Senegal. The children did a fantastic job of sharing their work linking harvest to their curriculum themes of Egypt, Mexico and India, with Early Years telling us about their homemade vegetable soup, bread and blackberry muffins!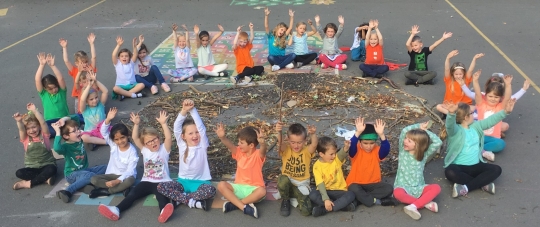 FOGS Update
At the AGM on Wednesday evening, Jenny Sim stepped down from her role as FOGS Chair. Over the last 2 years, Jenny has worked incredibly hard for the benefit of the children in our school, organising events that are fun for the children whilst also raising vital funds for the school.
The school are so grateful to Jenny and her FOGS team as they have been able to effectively support the school's key priorities, helping the school to go from strength to strength. Of particular note was the FOGS funded 'Woodland Hideout' which has enabled the school to fulfil its objectives relating to outdoor learning and the recent provision of iPads across the school (which FOGS have fully funded for this academic year) has drastically improved the school's capacity to deliver the computing curriculum and cross-curricular learning. Literally thousands of pounds has been raised and spent to support the education of all children within the school.
Also stepping down at the AGM were Sara Nixon and Emma Jones who are both huge supporters of the school and whose efforts as part of the FOGS team are much appreciated by school.
Training Day
School is closed next Friday 25th October for a training day.
NMPAT Wind Recital
The school was visited on Friday morning by Northamptonshire Music and Performing Arts Trust (NMPAT) who led two concerts, first for Key Stage 2 and then for KS1 & Early Years. The musicians taught the children all about their instruments and performed a mixture of familiar and not so familiar pieces. Both were fantastic performances and they will hopefully help to inspire the next generation of musicians.