Hello Visitor,
SATs Results
I am delighted to be able to report a strong set of SATs data for our departing Year 6 cohort. There will be much to analyse over the next few weeks but a short summary of attainment is shown on the chart and table below (alongside national data).
Our school data far exceeds the national average in all areas - reading, writing, maths, GPS (grammar, punctuation & spelling) and also the combined measure of RWM (this measures the % of children achieving the expected standard in all three of reading, writing and maths).
A huge well done to our Year 6 cohort for reaching such a high level of attainment and for giving themselves an excellent platform to build on as they make their transition to secondary school.
% of pupils reaching the expected standard
National
School
RWM
64%
93%
Reading
73%
100%
Writing
78%
100%
Maths
79%
93%
GPS
78%
100%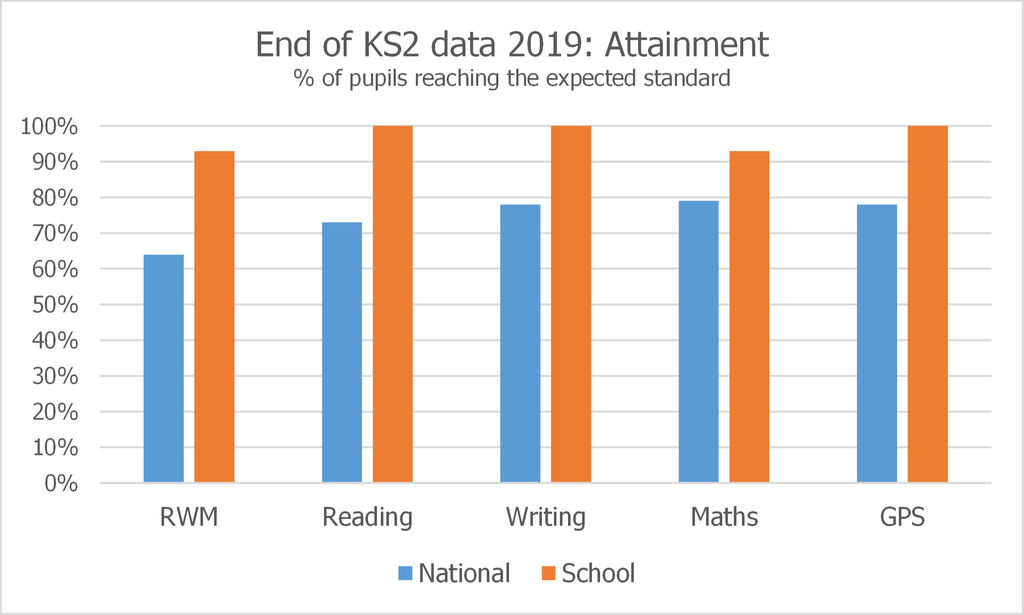 Childcare Provision
I spoke to Get Active this week about the possibility of them operating their childcare provision before school (in addition to the after school childcare). If there is sufficient demand and if we can work out the logistics of how it would operate, then Get Active would aim to have this provision in place by the start of next academic year.
Numbers of children attending the after school provision are gradually increasing and feedback from the sessions has been very positive and so the school is very hopeful that before school childcare would follow a similar pattern.
The school is keen to maintain its current before school supervision for those families who only require a very short period of childcare and so the current before school supervision would run separately and would therefore be unaffected.
It would help us and Get Active in our planning if you could complete our very short survey by following this link:
Get Active Breakfast Club survey
The school is very happy to respond to parental requests in this way and investigate whether there are sufficient numbers to run this provision.
Please complete the survey no later than Friday 19th July 2019
Important Dates
We are entering the last few days of the school year and, as always, it is incredibly busy! All relevant dates can be found on the school website at www.grendonprimary.net
A summary of the dates is here:
Open Afternoon
Wednesday 17th July 1.30-3.30pm
All welcome to join us for Open Afternoon to see what the children have been learning about as their latest Global Curriculum theme comes to an end.
______________
Sports Afternoon
Friday 19th July 1.30-3.30pm
All welcome to join us on the field for another competitive afternoon of races!
______________
FOGS Disco
Friday 19th July 6-7.30pm
______________
Pupil Profiles sent out
Tuesday 23rd July 3.30pm
______________
Leavers Assembly
Wednesday 24th July 9.30am
______________
Family Picnic
Wednesday 24th July from 11.30am
Weather permitting, we will open the school gates at 11.30am for families to set up their picnics in the school grounds. Children will all come out around 12.00 o'clock. You are welcome to stay as long as you like. Equally, feel free to start the summer holiday slightly earlier once you've had your lunch!
Pupil Profiles
There are still a number of Pupil Profiles that have not been returned to school for updating. Please return your child's Pupil Profile to school no later than Monday 15th July or, regrettably, teachers will not have time to update it with all of your child's summer term information.