Hello Visitor,
Remembrance
Last week, pupils across the school were involved in Remembrance related activities. Each child decorated a poppy which then formed part of the large display on the photo below, with some pupils writing Remembrance thoughts and prayers which are attached to the tree trunk. On Friday, pupils ventured outside to make giant pieces of Remembrance artwork using natural materials.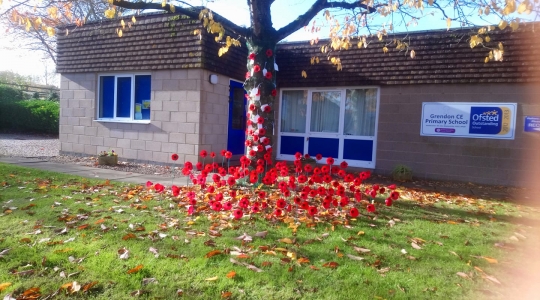 Victorian Day
Pupils in Pine Class visited Blists Hill Victorian town to support their curriculum studies.
From the Blists Hill wesbite: 'Welcome to the age of Queen Victoria. Here you'll experience what life was like when Britain ruled the world. Meet some (almost) real Victorians in their authentic shops and cottages, buy curious goods from a bygone era and watch tradespeople in action in their atmospheric workshops and factories.'
Amongst other things, the children went to the dentist, school and farm, explored the homes of the rich and poor but their favourites were the sweet shop, fish and chip shop and bakers.
Thank you to parents who volunteered their time to join us on the trip and for providing the children with such brilliant costumes.

Children in Need
The school's Children in Need mufti day donations are being counted as I type this but will have raised somewhere in the region of £100 which is fantastic. Thank you for your support.
Meanwhile, a special well done to Hattie and Elsa who organised a wonderful cake sale which raised the incredible total of £132.20. Good work, girls!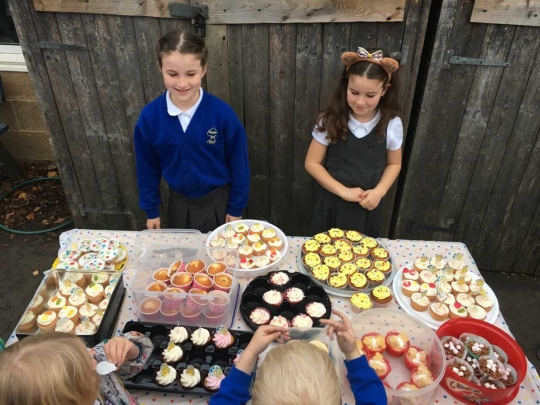 Safeguarding
I would like to draw your attention to the Safeguarding section of the school website www.grendonprimary.net. Included in this area are details of the school's Designated Safeguarding Leads (DSLs), contact details for safeguarding referrals and, as downloadable PDFs, the school's Child Protection Policy, Safeguarding pupils: parents' guide and Safeguarding pupils: visitors' guide. Please take some time to familiarise yourselves with this information, particularly the items in bold above.
Ice Skating at Beckworth Emporium
On Tuesday 18th December, the whole school will be heading off to Beckworth Emporium for a fun ice skating session. Letters have been sent home today with more information about the trip. The school would like to extend the invitation to all of the children in our nursery cohort, even if they do not normally attend on a Tuesday afternoon. The school will not have sole use of the rink and so parents are very welcome to book the same slot and join in the session.

Parent Governor Election
The deadline for returning ballot papers is Monday 19th November.