Hello Visitor,
Harvest Celebrations!
On Thursday, the school held its Harvest Service in St Mary's Church. The children linked their Global Curriculum themes to our harvest celebrations with Cedar Class telling us all about Canadian Thanksgiving, Pine Class showing us their Victorian corn dolls, Willow teaching us about harvest and Dig For Victory in World War 2 and Oak sharing photos of their visit to the local allotment, chopping up their vegetables and making soup and bread.
Thank you to Rev Paula for leading the service, Isabel and Ann for providing refreshments and our parent body for supporting the school. It was fantastic to see a full church and your kind donations of food for the Daylight Centre and cash for the church's chosen charity of Embrace the Middle East. Rev Paula will give me a fund raising grand total as soon as she has it!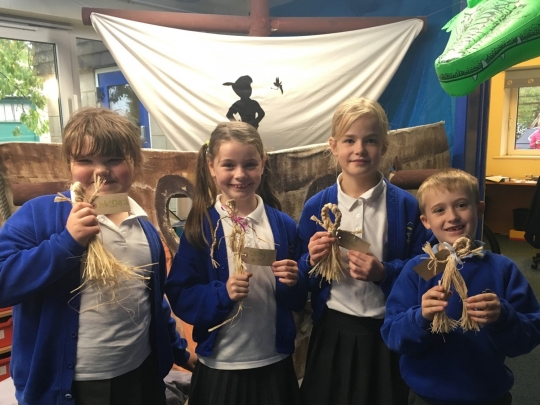 District Football Champions!
They are on their way to the County Finals in January! Congratulations to the Year 5/6 football team for winning the district competition as unbeaten champions. The team only conceded one goal in all 5 of their matches and were proud and worthy winners.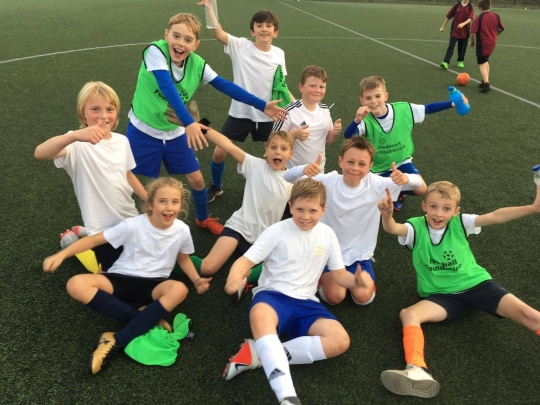 We need your wellies!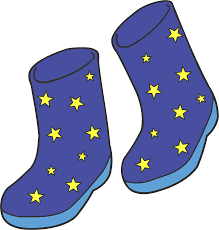 The outdoor learning room - 'The Woodland Retreat' - now has storage boxes ready for pupils' wellington boots! As the colder months are approaching, pupils will continue to spend time learning outdoors and we would like the children to be well equipped to go outside, even when the weather isn't great.
Over the next few weeks, we would be very grateful if you could send in a pair of named wellingtons for your child to store in school. Many of our outdoor learning activities are planned into the school week but if each child can have a pair of wellingtons in school every day it means that teachers can also plan spontaneous outdoor learning activities to support the curriculum.
Can you help?
The school is hoping to increase pupils' opportunities to grow plants and vegetables. We would like to build some raised beds on the school site and wondered whether there was anybody amongst our parent body who would be able to help us. This might be through sourcing materials or actually building the raised beds. If you think you might be able to help, please send me an email head@grendon.northants-ecl.gov.uk Many thanks in advance!
School Tours: Reception Intake 2019
Over the last week or so, over 20 families have visited the school with a view to applying for a place in our Reception intake for 2019. Rather than take the groups around school in a 'bunch', we decided a few years ago to pair up some of our pupils with individual families and send them off on guided tours. I am writing this because, once again, the school has been overwhelmed with positive feedback from our visitors, praising the children to being such polite, knowledgeable and proud pupils of Grendon School. One parent emailed me on Wednesday to say:
Dear Mr Wayland,

My husband I had the pleasure of visiting your school for a guided tour earlier today. Everyone was very friendly and welcoming.

More specifically, we would very much like to thank both Euan and Jamie for taking us around the different areas. Their manners were impeccable and they spoke with such articulacy, passion and knowledge.

We thoroughly enjoyed our visit and would like you to convey our thanks to them; both boys are a credit to you and your school.

With many thanks
School Attendance
The school is currently recording a relatively high number of unauthorised absences, which includes children being absent from school with no explanation or children arriving at school after the register has closed.
On the advice of NCC's Education and Inclusion Partnership (EIP) team, the school will report to them any incidences where a child accummulates 10 unauthorised absences in any 6 week period. The EIP team will then apply their Fixed Penalty Code of Conduct, which may result in parents being fined.
The school also closely monitors all pupils' attendance. Overall school attendance stands at around 96-97% and there is a broad expectation that a pupil will attend school for at least 95% of available sessions. Where a pupils' attendance falls below 90% over the course of a term, they become what the DfE would describe as a 'persistent absentee'.
Please support the school in keeping our attendance rates as high as possible - many thanks in anticipation of your support.
Both the school's Attendance Policy and the EIP's Fixed Penalty Notice Code of Conduct can be found in the Policies section of the school website.
Christmas Show (Years 1-6) and Nativity (Reception)
In this morning's Achievers' Assembly, the eagerly anticipated Christmas Show was announced! This year, children in Years 1-6 will perform 'Bah Humbug' (based on A Christmas Carol).
Auditions took place this week and parts have been allocated, with scripts sent home today with children who have speaking parts. As in previous years, whilst priority for the main roles is given to our Year 6 children, every child who auditioned for a speaking role has been given a speaking role.
After the success of The Lion King, Mary Poppins and Alice in Wonderland, I am delighted to announce that the performance will again take place at Wollaston Secondary School.
Christmas Show: Bah Humbug (Years 1-6)
Friday 14th December 6pm
Wollaston Secondary School
Meanwhile, our Reception cohort will be busy preparing for their performance of the Nativity which will take place in the Early Years outdoor area.
Nativity (Reception)
Monday 17th December 4pm
Grendon CE Primary School