Hello Visitor,
Harvest Celebration

The school's Harvest Service in church will be held on Thursday 18th October at 9.30am. Each class will be contributing to the service and the children have been busy practising songs. Parents and relatives are very welcome to join us at the service.
This year, the school will supporting 2 charities plus the school's social enterprise in Senegal.
Across the Benefice, funds are being collected for Embrace the Middle East; a Christian charity with over 160 years' experience helping people of all faiths and none to free themselves from a life of poverty and injustice.
As in previous years, the church are also collecting food donations for the Daylight Centre.
If you would like to contribute to these causes, please send your child to school on Thursday with a donation.
_____________________________________________________________________________
Friday 19th October will be a mufti day in school, with voluntary contributions going directly to Cherif the chicken farmer who runs the school's social enterprise in Senegal. Cherif is hoping that funds raised will allow him to buy the next batch of day old chicks. The photo below shows Cherif at work in the chicken house that school funded several years ago.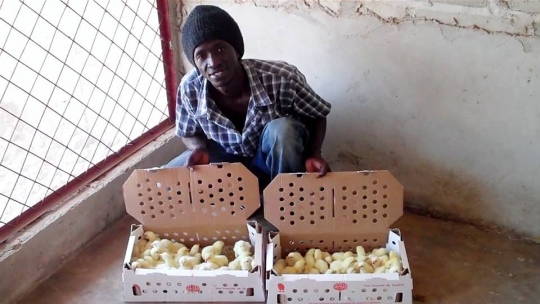 Healthy living!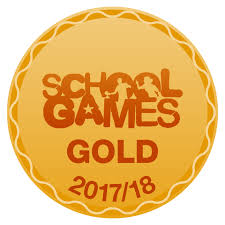 The school has been awarded Sportsmark Gold Award for the second year in succession in acknowledgement of the school's commitment to delivering high quality sport in school and for its participation in a wide range of intra and inter school competition.
Last night, two teams from Year 3/4 took part in a local cluster football competition, playing well and finishing 3rd and 7th overall. There was the anticipated blend of tough tackles and rasping shots mixed with an extraordinary amount of skipping and an attention to detail coordinating pony tails that has never been seen on a football pitch before. The children were fantastic and we are proud of them all.
Last week, children from Year 1/2 took part in a multi skills festival, participating in throwing, jumping and running activities, representing the school brilliantly.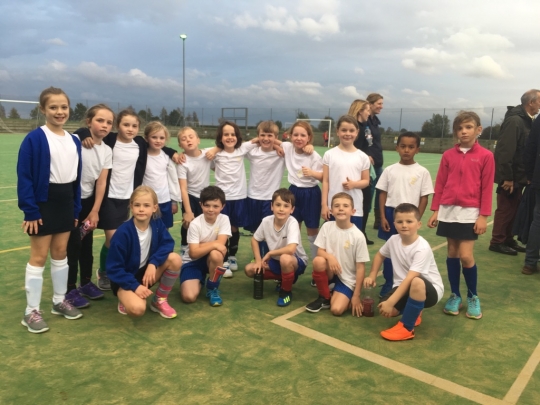 Cedar Class headed down to Grendon Hall this week for an autumnal walk to support their science work, identifying common plants and trees and collecting bags full of interesting things to explore back in school!