Hello Visitor,

I am delighted that we have been able to accommodate all of your requests for additional tickets - this means that the show is a complete sell-out which is very exciting news.
Payment deadline
As a gentle reminder, the deadline for all ticket payments is Monday 10th July. After this time, any unlcaimed tickets that have not been paid for will be put on sale so that as many people as possible can enjoy the performance.
Admission on the night
As the performance is a complete sell-out, only those with tickets can be admitted so, even if you have paid for your tickets, you must have them to hand on the evening so that we can get everyone in quickly and safely.
Unreserved seating
If you have notified us of mobility issues or that you are bringing very young children, your seats will be reserved under your child's surname (there will litereally be an name tag stuck to your seat!). All other seats are unreserved.
If a member of your party has mobility needs and you have not yet let us know, or if you are bringing very young children, please email me at
Sports' Day
Weather permitting, our annual sports' day will take place on Monday 10th July from 1.30pm. All are welcome to come and cheer the children on!
Family Picnic
On the final day of term, Friday 20th July, please join us from 11.30am for our family picnic. Parents and relatives are invited to set up their picnics on the grass bank and pupils can then join their families from 12.00pm.
Caterlink
So that all children can enjoy the family picnic, Caterlink will be providing a packed lunch on the last day of term instead of the usual hot meal. This can be booked in the normal way and it does include a vegetarian and vegan option. Orders for the last day packed lunch must be made by Wednesday 12th July, please.
FOGS
FOGS will be running an event on the playing field on the last day of term - stay tuned for more information about this.
Nursery 2023-24
The first day that our Nursery provision will be open in the 2023-24 academic year is Monday 11th September. This allows our new Reception cohort (who start on Tuesday 5th September) to have a few days to settle in.
School Photos
We dodged the rain and year group photos from Reception to Year 6 took place on Wednesday of this week as planned. Full details of how you can view and place orders will be shared as soon as possible.
Hamerton Zoo
Early Years and Key Stage 1 visited Hamerton Zoo yesterday. They had a brilliant day and here you can see young Rupert 'doing the sloth'. The children were very excited to tell me all about the different animals that they saw - everything from tigers and lemurs to flamingos and dingos!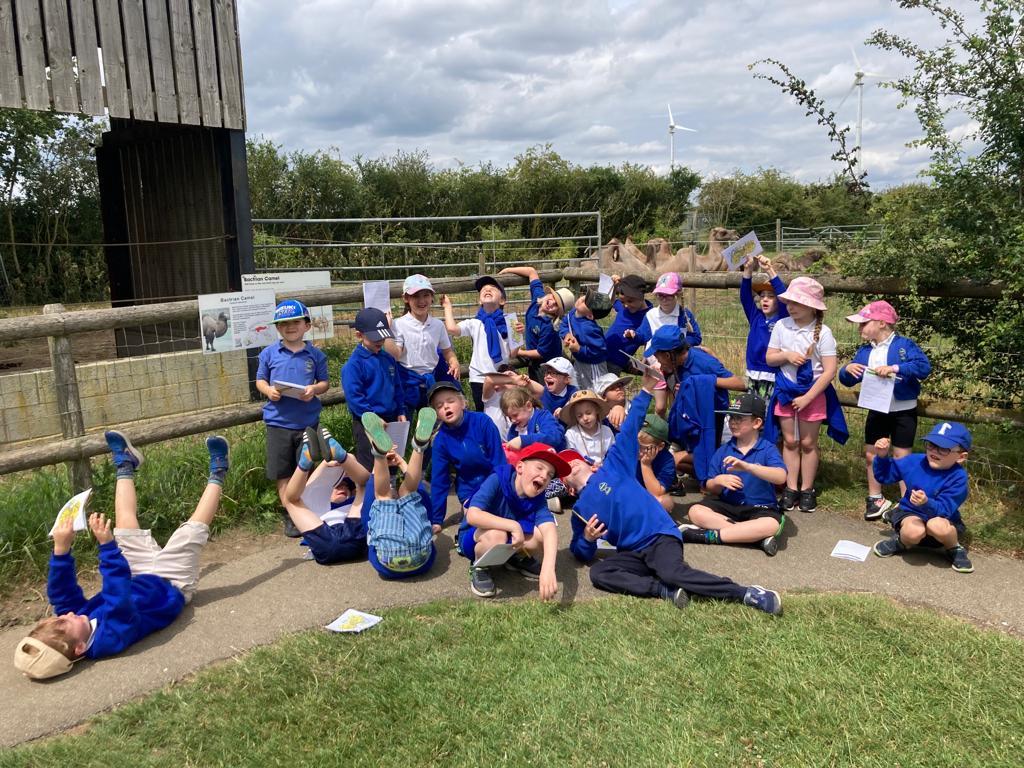 A Plea For Help
In order to reduce costs for the new playground equipment installation, I am putting out a plea to anyone who might be able to help school by dismantling, removing and disposing of the current fixed climbing equipment before mid-August. If you, or someone you know, has the skills, time and tools to carry out part or all of this work, please don't hesitate to get in touch with me at