Hello Visitor,
Perranporth 2023

Once again, it was a privilege to take such a fantastic group of children to Perranporth for the Year 6 residential. I have said it many times before but it is testament to the children's excellent behaviour that school feels so confident in organising this ambitious trip to Cornwall. Children have to embrace new experiences, interact with the public, look after each other, take themselves out of their comfort zone and be fairly self sufficient in the hostel for a week!
It was a brilliant week and I am busy sorting through hundreds of photos which I plan to share at the Leavers' Afternoon Tea in a couple of week's time.
The Lion King
Tickets
Many thanks for returning your ticket requests to the office. I am very pleased to report that the school has been able to allocate every request for additional seats. Updated payment details have been uploaded to your individual ParentPay accounts with the outstanding payments for your requested tickets.
From the initial allocation and additional ticket allocations, the show is now sold out.
I am aware that some families may no longer require all of their requested additional tickets and so, after the next payment deadline of Monday 10th July, any unclaimed tickets will be up for grabs.
Tickets will be sent home once payment has been received.
Babies and Toddlers
The children have worked so hard to learn their lines and most are stepping well outside of their comfort zone to perform in The Lion King. Whilst young children are very welcome to watch the show, I would politely request that you take your child out of the main hall if they become noisy out of respect for the performers. If you would like an aisle seat reserving so that you can make a swift exit if necessary, please let us know.
Mobility
Any families who have informed us that a member of their party has mobility issues will be allocated reserved seats near to the front of the main hall. Where possible, we will sit whole families together but it may be necessary to split larger groups.
If a member of your party has mobility needs and you have not yet let us know, please email me at
Playground Development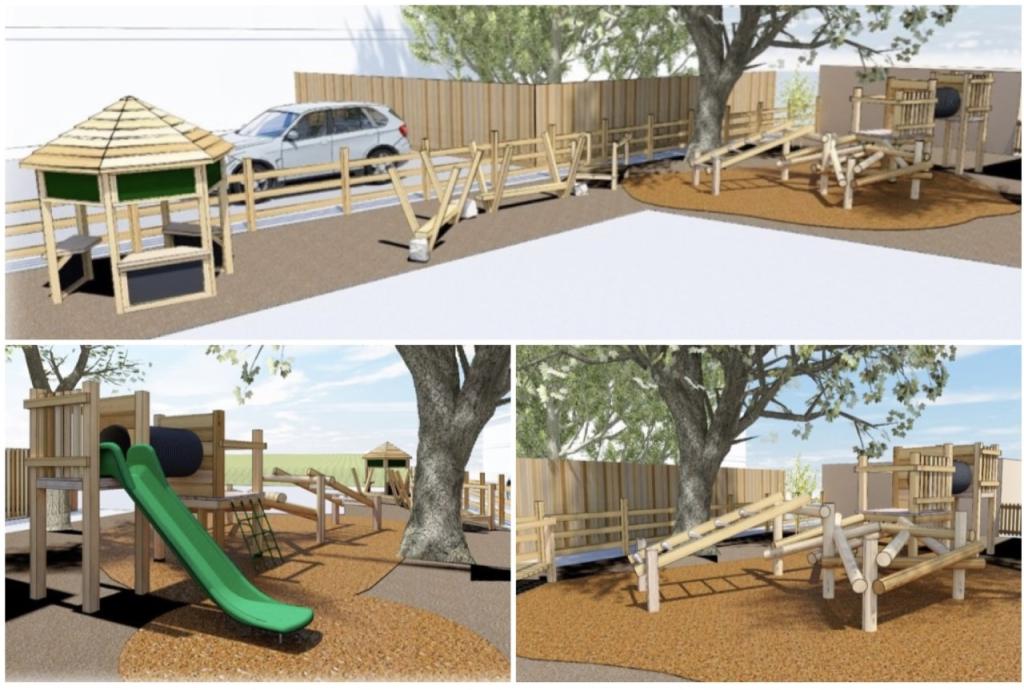 Over the last few months, the school sought various quotes for a playground equipment overhaul and the exciting news is that the school has commissioned Timotay Landscapes to install brand new play equipment over the summer holidays. The chosen design is shown above and will sit more or less in the footprint of the current equipment which will be removed.
FOGS
In order to meet the considerable cost of the installation and equipment, the school is reliant on the support of FOGS who have committed substantial funds to the project. In their upcoming fundraising efforts, please do offer as much support as you can as we are really hoping for a big final push in fundraising before the summer break.
A Plea For Help
In order to further manage costs, I am putting out a plea to anyone who might be able to help school by dismantling, removing and disposing of the current fixed climbing equipment before mid-August. If you, or someone you know, has the skills, time and tools to carry out part or all of this work, please don't hesitate to get in touch with me at
Pupil Profiles
There are still a number of Pupil Profiles that have not been returned to school. Please ensure that your child's Pupil Profile is returned by Wednesday of this week so that it can be updated with Summer Term data.
Sports Day
Weather permitting, Sports Day will take place on Monday 10th July from 1.30pm. The format is unchanged...the track is marked...parents sit one side, pupils on the other...the races will come thick and fast...lots of cheering and stickers....everyone welcome.
Children should come to school on Monday in their PE kit, including a plain t-shirt in their house team colour.

Year 6 Leavers' Afternoon Tea
Leavers' Afternoon Tea on 20th July will run from 2-3pm. I can confirm that we can accommodate all of the requests for places as per your reply slips and so we will look forward to seeing you all then!