Hello Visitor,



Coronation Celebrations

We had a wonderful day of celebrations last Friday. The children were impeccably behaved and all had a very enjoyable day. The children made bunting, crowns and placemats to decorate the hall for their special lunch. Nessa suprassed herself in the kitchen, preparing two full sittings of delicious fish and chips. Despite a poor forecast, the rain held off and the children took part in a range of activities and games in the afternoon, including cricket on the field and dance on the playground.

Thank you for supplying the brilliant assortment of cakes for the children's afternoon treat.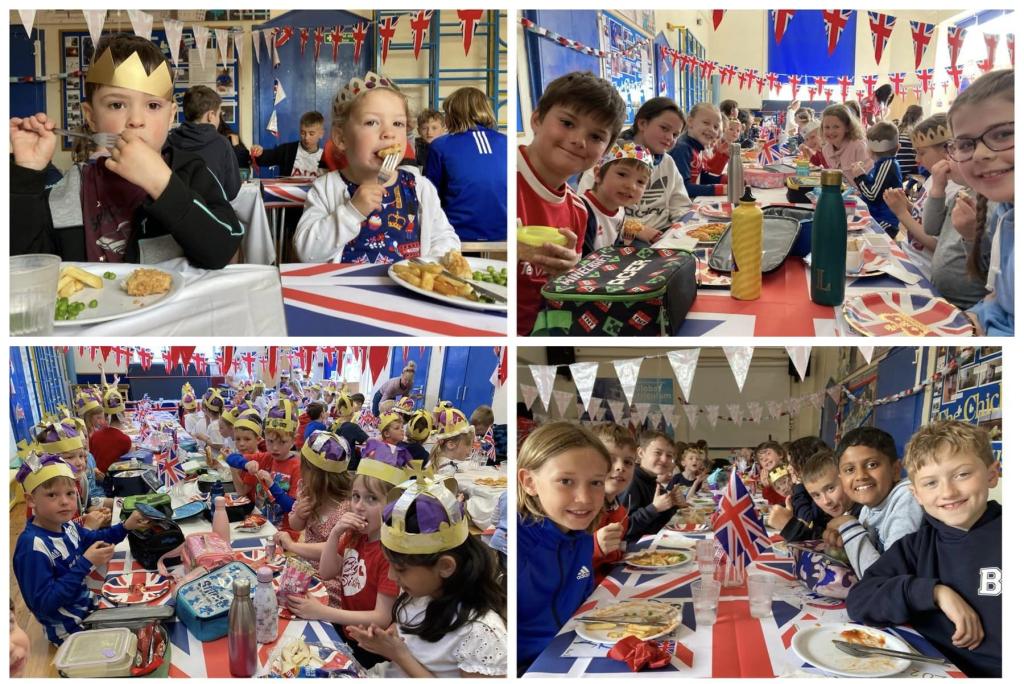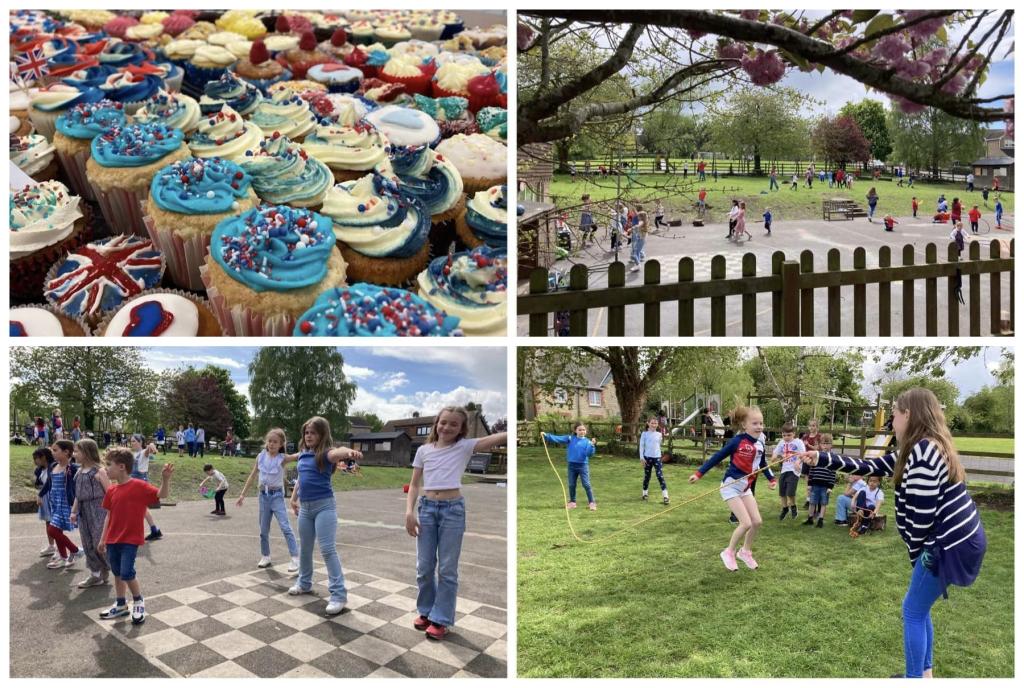 Well done, Year 6!
Year 6 sat their end of Key Stage 2 tests this week and conducted themselves brilliantly. The school is always very mindful of providing children with a rich and exciting curriculum throughout their primary years and staff strive to prepare children well for exams whilst not compromising their wider learning experiences. I am sure our Year 6 pupils will have given a great account of themselves this week and the school is very proud of their fantastic attitudes and super effort.
Dancing Schools UK
Year 3/4 dancers take to the stage this weekend in the Dancing Schools UK competition. The children performed for the school in Thursday's assembly and danced brilliantly. Good luck on your big day!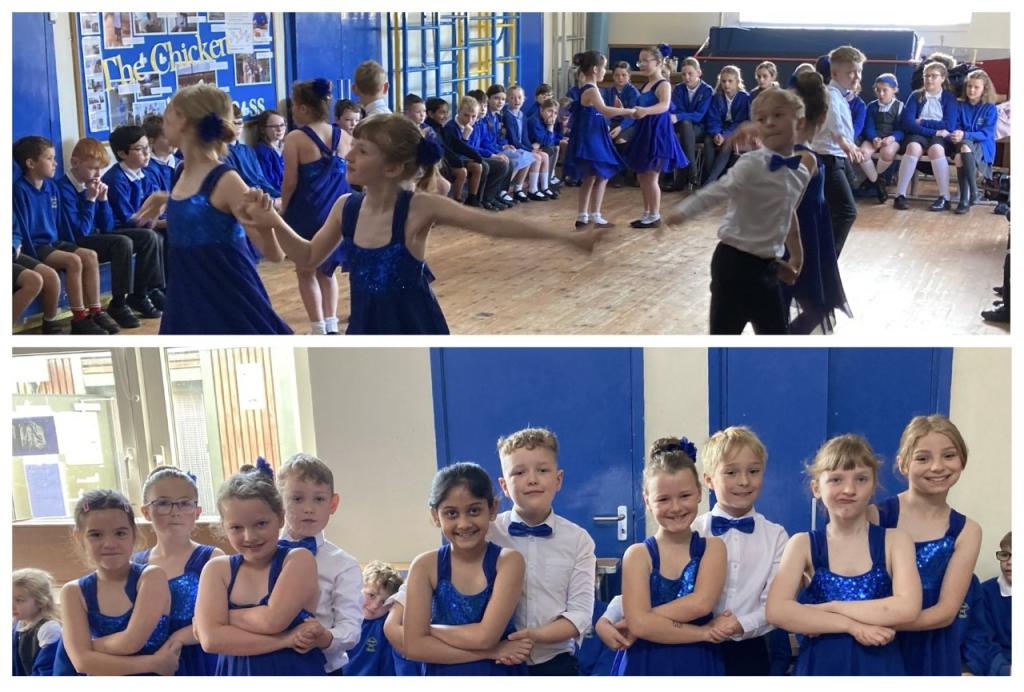 Parents' Evening
Parents' Evenings take place just after half term on Tuesday 6th and Wednesday 7th June. We are collating all of the requests and will get your child's appointment to you as soon as we can.
Residential Meetings
There will be short information meetings to discuss the upcoming Year 4 and Year 6 residentials at the following times.
Year 4 - Wednesday 24th May at 3.35pm in Pine Class
Year 6 - Thursday 25th May at 3.45pm in Pine Class
Highways Update!
Roadworks: 18th - 26th May
You will no doubt have already seen the signs around the village about the imminent roadworks. Please make yourself aware of the following information as the road closures will impact on the school run, particularly at pick up time (as the closures run from 9.30am-3.30pm). I'm afraid I don't have any more details as yet and, at the time of writing this, I can't see anything on the North Northants website. I am waiting to hear back from the site contact. A man in a hi-viz dropped these notices off today and so I don't know any more than what is shown on the documents. From the aerial picture, it appears that the road immediately in front of school will be closed for part of the roadworks. If any Grendon residents stumble across any more information, please let us know!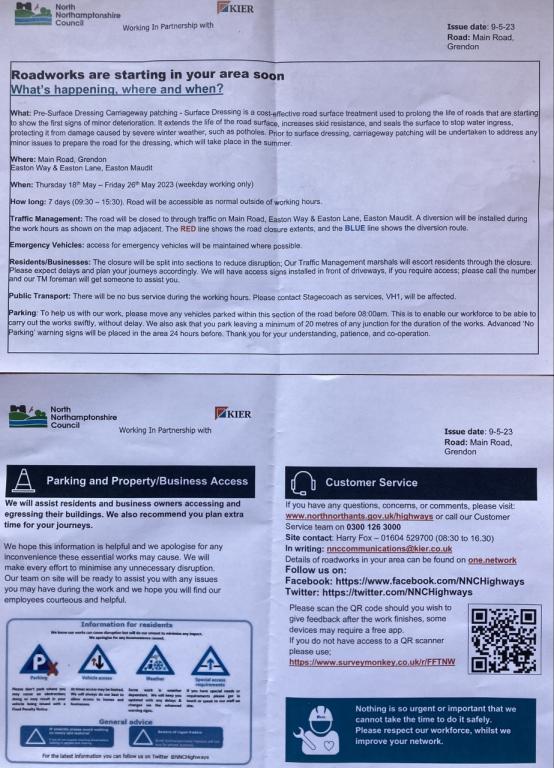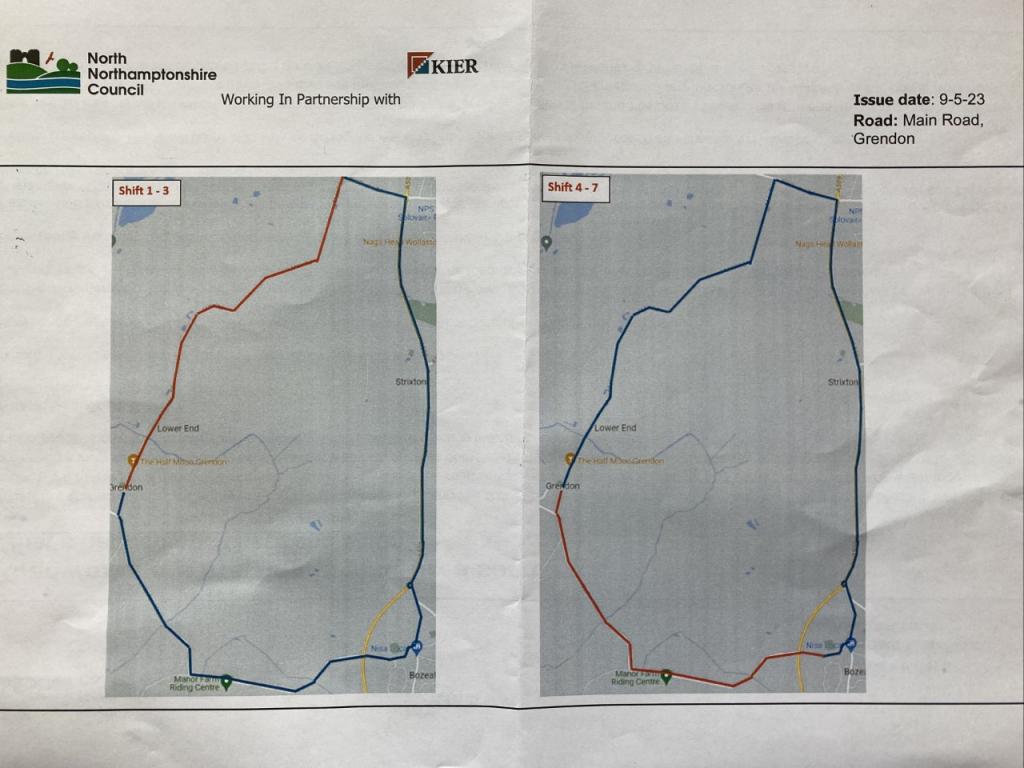 Parking Around School
Whilst the school has no legal powers to enforce how individuals park (unless it is on school-site), it is important for us to share concerns with you so that you can support us in promoting safe parking. The prime aim in doing so is to mitigate any safety risk to children that inconsiderate and dangerous parking may cause. This will be particularly important to consider during the upcoming roadworks.

On advice from the Police, school would like to remind parents and residents to report any 'nuisance parking' either by calling 101 or making an online report. Photos of offending vehicles may be submitted as part of any report. Details of what constitutes 'nuisance parking' and how it can be reported can be found here.