Hello Visitor,
Staffing News
Mrs Pritchard
After many years of dedicated service to Grendon CE Primary School, Mrs Pritchard moves on to pastures new in September. As well as providing countless children with a wonderful start to life at Grendon, Mrs Pritchard was instrumental in the success of the school's Nursery provision which began under her guidance and expertise several years ago. This has further supported children's seamless transition into school and many children, some who are now in secondary school, remain incredibly grateful not only for her brilliant teaching but for her kindness and care at an incredibly important stage of their development. As a result of the global pandemic, the role of the Early Years teacher is more crucial than ever and Mrs Pritchard has worked tirelessly to ensure that the negative impact of Covid on children's early development has been mitigated to the extent that the children in her class continue to make huge strides in learning and in their personal development. The countless parental comments on Pupil Profiles which I have read this week about their amazement and immense satisfaction at their children's social, emotional and academic progress are testimony to Mrs Pritchard's dedication to her role and her expertise in delivering the Early Years curriculum.
The school now begins the recruitment process for a new Early Years teacher and I will provide updates as this progresses.
Mrs Blacklee
Mrs Blacklee leaves at the end of this academic year to explore further exciting opportunities in the world of alpacas! You probably already know that Mrs Blacklee runs Easton Way Farm https://www.facebook.com/eastonwayfarm/ and you may well have met some of her alpacas at last weekend's Daffodil Festival. Although Mrs Blacklee has only been with us for a relatively short time, her contribution to the school has been significant and greatly appreciated. The staff and children have enjoyed working with her enormously and she has assured me that this will not be the last we see of her in school!
Mrs Austin
Mrs Austin has gone over and above the call of duty in recent months, teaching in Willow Class on Fridays as well as continuing her role teaching music to each class on a Wednesday. Due to other, long-standing personal commitments, Mrs Austin will step back from her teaching role in Willow Class from the start of next half term (but will continue to teach music each Wednesday). For next half term, Mrs French will teach in Willow Class on Fridays and Miss Steed will teach in Pine Class full-time.
Easter Service
Despite a gloomy day, St Mary's was full of happiness (and people) this morning as the children shared their work on Easter crosses, Harmony Day, hot cross buns, prayers for Lent, carnivals and the Easter story. The children read and sang beautifully, courtesy of Mrs Austin's brilliant tuition. Many thanks to Rev Morna for leading the service and sending us all off happily into the Easter break.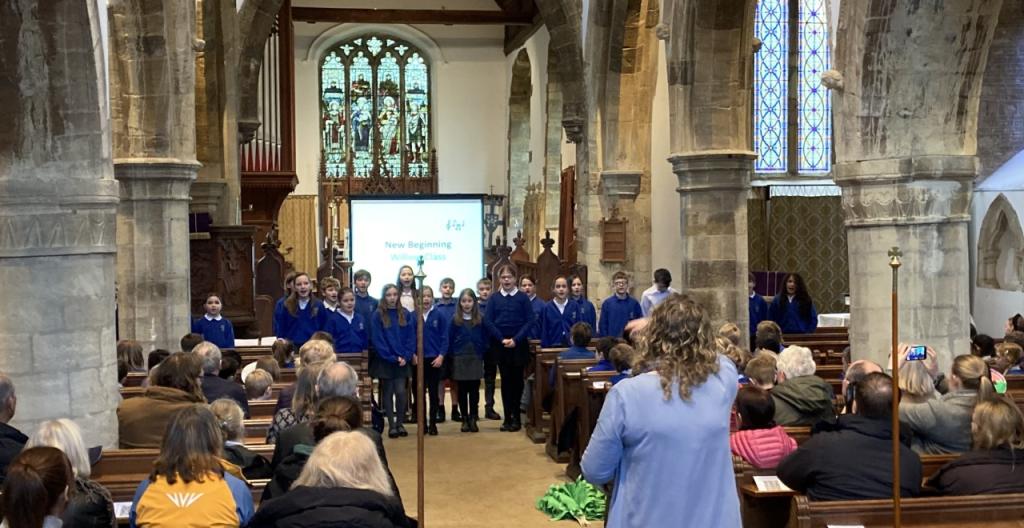 GLK Football Club
The registration information for next half-term's football club can be found here