Hello Visitor,
FOGS
FOGS now have their own page on the school website which you can find here. Information about upcoming events will be available as downloads from this page. You can also click on the FOGS activity hyperlinks in the 'Dates For This Term' section below to access the flyers.
FOGS are extremely busy with Hot Chocolate Fridays, their wreath making workshop, Christmas disco preparations and the Christmas hamper raffle!
FOGS are also holding their AGM on Monday 12th December at 7pm and would be incredibly grateful for your support at this meeting. Full details in the link below.
Dates For This Term
Friday 2nd December
FOGS Wreath Making Workshop 6.30-9pm
Tuesday 6th December
KS2 Theatre Trip
Nativity: The Musical @Birmingham Rep Theatre. Payment to be made via ParentPay by 30th November
Wednesday 7th December

Christmas Theme Day

Children will spend a day working on a range of festive singing, arts and crafts, including a Christingle workshop. Christmas jumpers are highly recommended!

Letters have been been shared with all pupils either via Teams or hard copy. As a brief recap, all children from Nursery to Year 6 will take part in all activities (4 in total), moving around school in House Groups (we will organise these and so don't worry if you don't know what House Group your child is in). For some activities, all children have been asked to bring in items (for the sock snowmen and Christmas tea-light holders) and so please, if you can, take a few minutes to read the letter so you know what to send in. Something not included on the letter is a request for children to bring in an old t-shirt or apron to protect your Christmas jumpers from paint and glue.

**FOGS request - on Christmas Theme Day, in exchange for wearing Mufti, please bring in a small hamper gift in your house colour for FOGS Christmas Hamper Raffle**

Friday 9th December
FOGS Christmas Disco 6-7.30pm
Monday 12th December
Reception's Nativity 4.00-4.30pm
An outdoor performance of the Nativity by our Reception cohort. Parents and relatives are welcome!
Monday 12th December
FOGS AGM 7pm
Tuesday 13th December
EY/KS1 Theatre Trip
Santa's Christmas Rescue @The Core at Corby Cube Theatre. Payment to be made via ParentPay by 30th November
Wednesday 14th December
Whole School Carol Service at Grendon Hall 3.00-4.00pm

All are welcome to join us for this special event. Full details to follow.

FOGS will be providing refreshments on the night and will also be announcing the winners of the Christmas Hamper Raffle.

Friday 16th December
Caterlink Christmas Meal
Friday 16th December
Pupil Profiles sent home
Advent Wreath
St Mary's Church (more specifically Deborah and Bev) created a beautiful Advent wreath for the school which we were very grateful to receive at the start of this week. Advent began on Sunday 27th November and so we lit the first candle in Collective Worship on Monday morning, with children learning about its symbolism of the four weeks of Advent.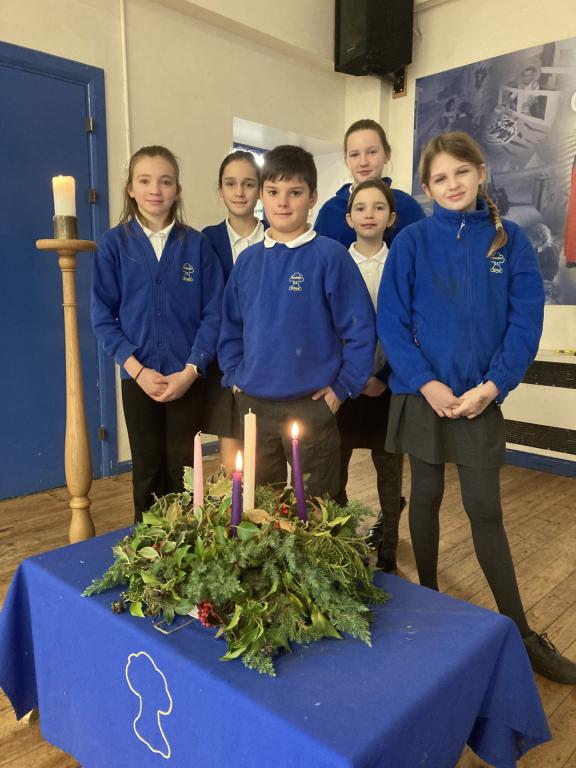 Poppy Appeal Thanks
We received a postcard today thanking school for its excellent contribution to the Poppy Appeal. A grand total of £227.19 was raised which is a huge amount for a small school like ours.

Parking
Resident complaint
The school received a complaint from a Grendon resident about inconsiderate parking at drop off and pick up times. Whilst the school obviously has no legal powers to enforce how individuals park (unless it is on school-site), it is important for us to share residents' concerns with you. The prime aim in doing so is to mitigate any safety risk to children that inconsiderate parking may cause. The school also enjoys very positive relationships with its community which it aims to maintain.

On advice from the Police, school would like to remind residents to report any 'nuisance parking' either by calling 101 or making an online report. Photos of offending vehicles may be submitted as part of any report. Details of what constitutes 'nuisance parking' and how it can be reported can be found here.
Northants Police has also emailed school a Police Parking Notice for us to share with you. It can be found here.
School Car Park
We have an agreement with several families who have mobility issues that they can park in the entrance to the school car park to allow them to drop off and collect easily and safely. For this reason, please avoid parking in the school car park entrance.
Caterlink School Meals
Caterlink meals will increase in price from the start of next term to £2.70. The price changes will be applied to meals booked on ParentPay from January. Children in Reception, Year 1 and Year 2 will be unaffected by this change as they will continue to be eligible for Free School Meals.