Hello Visitor,
Fantastic Gymnastics!
It has been a fun, exciting and successful week of gymnastics! Year 2 participated in a gymnastics festival earlier in the week and they took advantage of all of the excellent facilities at Matrix Gym to practise their skills and try out new things. Yesterday, our Key Stage 2 Performance Gymnasts finished 3rd in the Wellingborough & East Northants Competition and, a day earlier, both our Year 3/4 and Year 5/6 gymnastics teams were crowned champions in the Development Gymnastics competition. Stunning performances from all of our pupils. The Year 3/4 and 5/6 teams have qualified for the the County Finals held in March.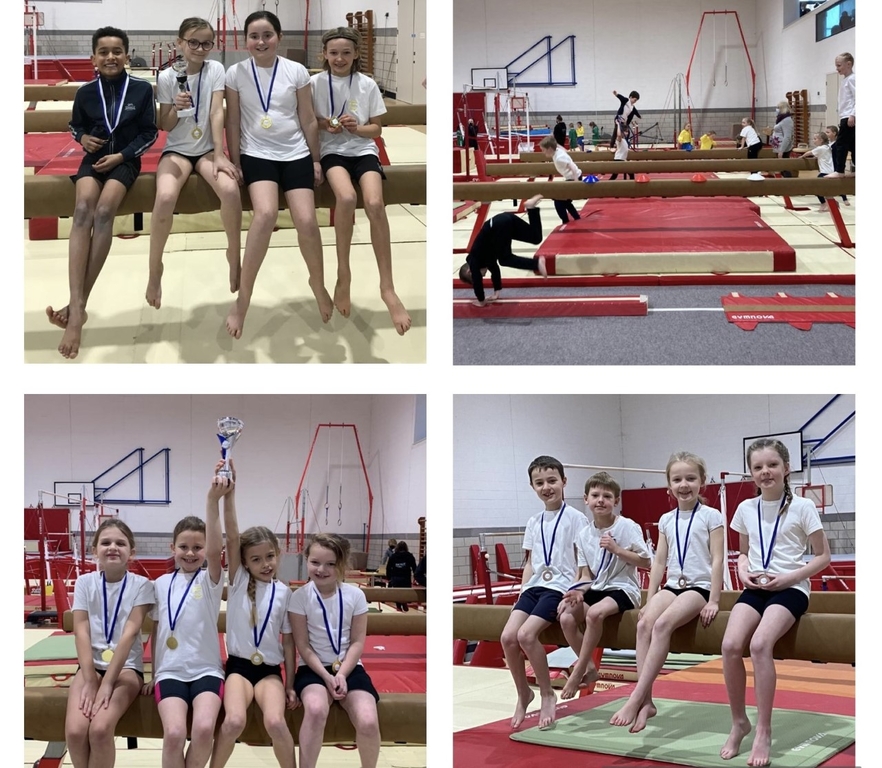 Pupil Mentoring
For those of you who are unfamiliar with the Pupil Mentoring initiative, it is something we designed as a school to sit alongside the curriculum to raise the profile of and support children's well-being and mental health. The school believes that children's mental health should be prioritised alongside their academic achievements and we like to think of the two as going hand in hand and as having equal importance.
Children are asked to respond to a series of statements linked to each of the following key questions in bold below. Their response to each statement – yes, no or sometimes – is purely their own view at that moment in time. Where a statement appears quite 'wordy' or is misunderstood by a child, it is rephrased or clarified with examples so that it is understood and accessible to all children.
What do I think about school?
What do I think about myself?
What am I like as a learner?
How do I show that I am a global citizen?
How well do I work by myself?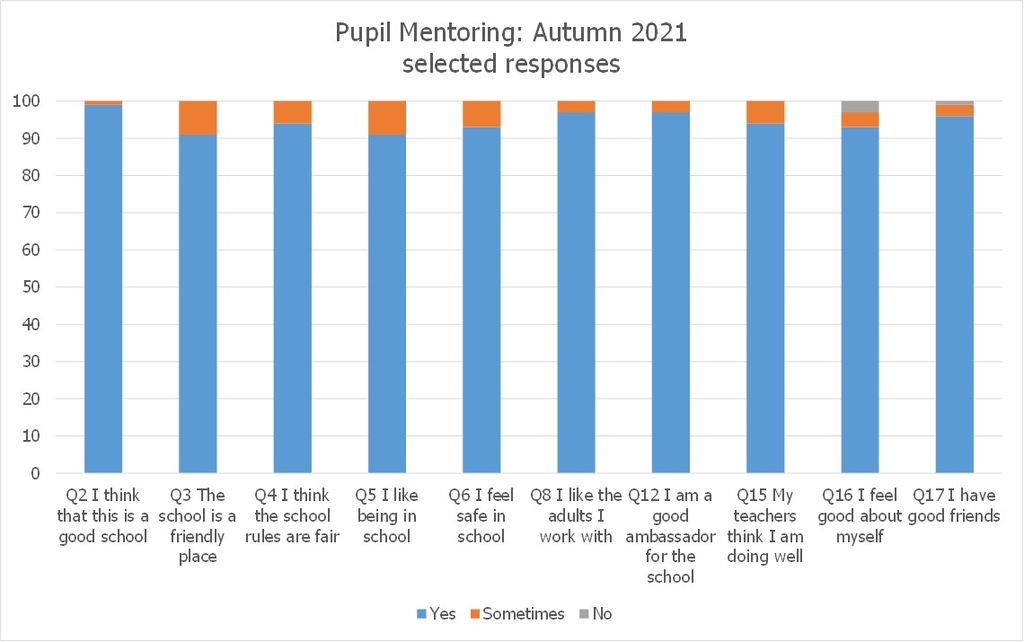 It is the school's intention to use the outcomes of the Pupil Mentoring initiative to look for trends in data across school (an example is shown above of the collated whole school responses to selected statements) whilst also identifying specific needs of individual pupils so that appropriate support can be provided where necessary.
Year 6 Peer Tutor Training
'Peer Tutor' is a term used by schools to describe individuals who are trained in schools to support the learning of other pupils. On Monday 17th January, our Year 6 pupils will be trained as Peer Tutors to help facilitate our Pupil Mentoring programme.
Leading the training on Monday will be Mrs Natasha Mycawka, who has worked with the school on and off for many years. Natasha, who has a wealth of experience supporting children's mental health and well-being, currently works for the University of Northampton as part of their education outreach team.
The training will be held in school over the course of the day. The children will explore brain development, learning styles, the importance of positive mental health as well as focussing more specifically on how this will relate to the school's own Pupil Mentoring programme.
The Peer Tutor training is always very well received by the trainees who thrive on having this important responsibility in school. I am sure that Monday's training will be equally popular this year.
Year 6 Residential
Further to the residential letter already circulated, a reminder that the online consent form and deposit payment must be completed/paid by Monday 31st January so that the school can confirm numbers and make initial payments to the various providers. The link to the consent form is below and all payments for the trip should be made via ParentPay.
Nursery Provision
Nursery places from September 2022 are already filling up, so please register your interest with us at the earliest opportunity. There is no firm commitment needed at this stage. If you believe you have already put your child's name down, please feel free to contact us to confirm that they are on our list if you are worried that you may not have told us! Places in our provision are limited and so please don't hesitate to get in touch. Children are eligible for our nursery provision if they are in the chronological year before they start school.