Hello Visitor,
School Tours: Reception Intake 2022
If you have a child due to start school in September 2022 and you would like to learn more about our school, please contact us at to book a place on one of the following tours.
Tour 1 - Wednesday 3rd November at 9.45am
Tour 2 - Thursday 11th November at 1.30pm
After a short presentation, pupils will take visitors on a tour of our award winning school. For those children already in our Nursery setting, there is no expectation that you should attend, although you may still choose to book a place.
Parents' Evenings
Parents' evening appointments will take place on Monday 8th November and Wednesday 10th November. Letters will be sent out in due course but please make a note of these dates in your diary. As previously mentioned, appointments will be face-to-face but teachers will be happy to arrange a phonecall with any parent who would rather not attend a meeting in person.
Pine Podcasts!

Pupils in Pine Class have recorded some brilliant podcasts as part of their Global Curriculum theme of Egypt.
The children have been learning about the Five Pillars of Islam and you can listen to all of their podcasts via the QR code on the right.
The children have today been baking Eid biscuits which I am sure will taste as good as they look and smell.

The Aarti Festival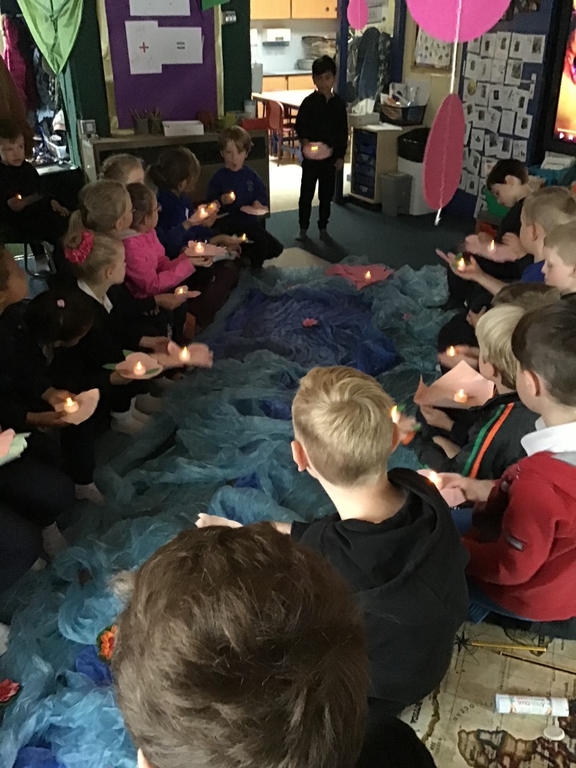 Following on from their work on Onam, Cedar Class pupils have been celebrating the Aarti Festival which is one of the most important events of the year relating to the River Ganges.
The idea is to show gratitude and respect to the river and ask for its blessings - Aarti is celebrated with the chanting of hymns, fire and flowers!
In our photo, the children are alongside the Ganges in prayer and are completely immersed in what they are doing! This work is in support of their Global Curriculum theme of India.
Meanwhile, Pepper is back in school, interacting with all of the children across the school and generally having a lovely time being fussed by all of the children who have missed seeing her in school as much as they used to. Normal service has resumed and Pepper certainly knows her place as you can see from the photo.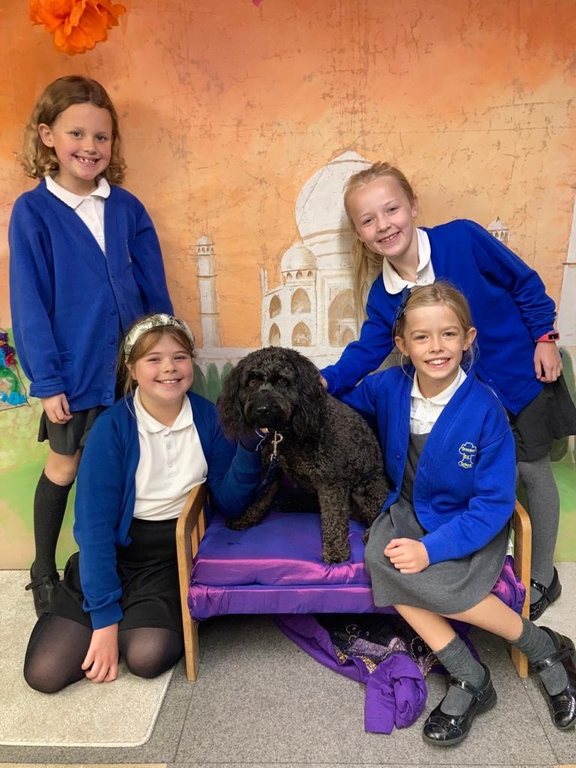 Harvest!
Our youngest children have been learning about harvest. The children wanted to make bread and chose two different types so they could decide which they preferred. The smell of baking around the school was amazing and the children were very proud of their hedgehog and mouse loaves. All of the children in EYFS continue to thrive and have settled so happily in school.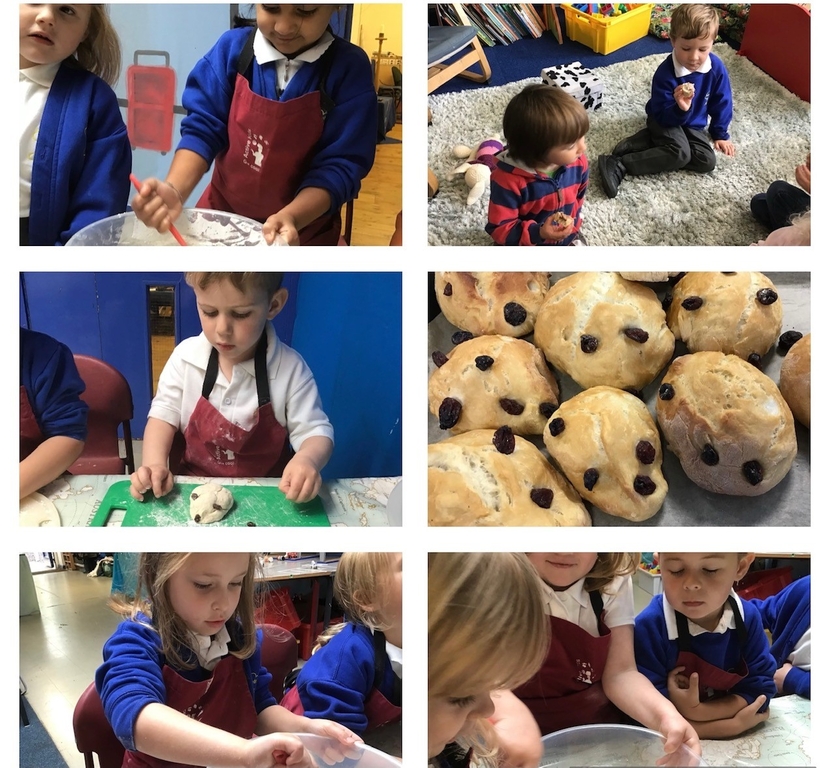 Mayflower Diaries
In 1620, the Mayflower ship transported a group of English families, known as the Pilgrims, across the Atlantic on a dangerous 10 week journey of discovery to America.
As part of their Global Curriculum theme of America, our Year 5/6 pupils wrote brilliant diary entries in role as passengers on the Mayflower and in last week's Achievers' Assembly, Jacob and Flo were chosen by their teacher to receive a certificate for their writing.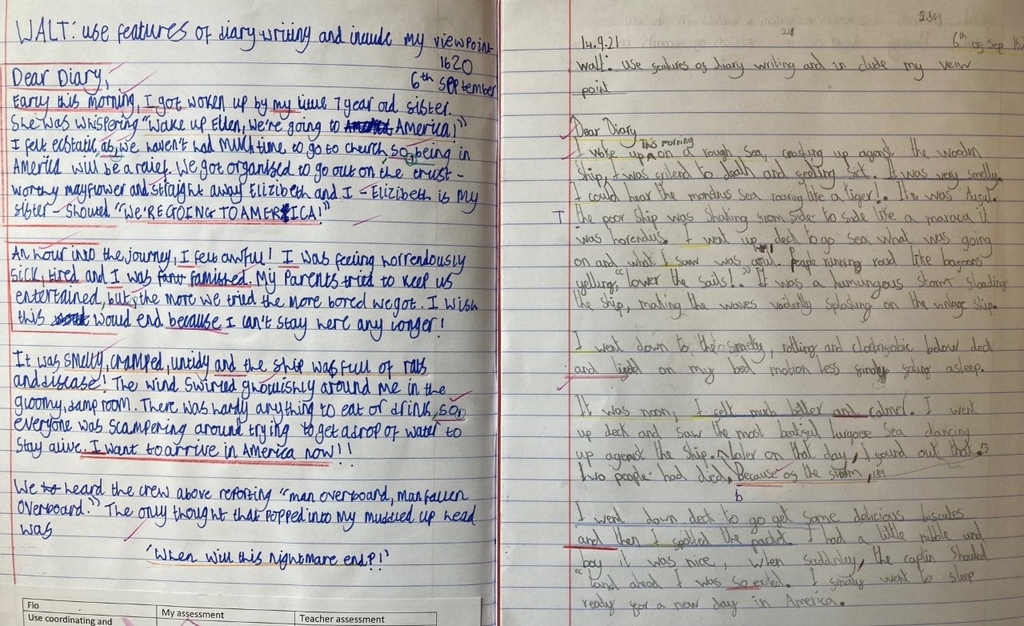 Reminder:

Parent Governor Election

A reminder that the deadline for submitting a nomination form is Tuesday 5th October 2021.

The nomination form can be found here. The form is a word document so that candidates can type into the table and this from should be completed and emailed to by the date indicated in the timetable above.
More Information
For more information, please refer to the Local Authorities guide here.
Reminder:

Covid Symptoms
A gentle reminder that school continues to follow the DfE guidance on Covid, including the parts relating to Covid-19 symtpoms - a high temperature, loss of taste/smell and a new, persistent cough. Please do not send your child to school if they have any of these symptoms. If a child presents with any of these symptoms in school, school will contact parents immediately and ask them collect their child from school with advice for the child to have a PCR test (Lateral Flow Device testing is for asymptomatic use only).