Hello Visitor,
Perranporth 2021
This is the photo that we never thought we would be able to take!
It was a privilege to be able to take our Year 6 pupils to Perranporth - a trip that, for a long time, seemed destined not to happen. The opportunity for the children to be together in a spectacular setting has provided them with wonderful, lasting memories at the end of what has been an uncertain year. The school is so grateful that the children experienced a fitting end to their time at Grendon - sunny days playing on the beach and surfing in the sea - before they embark on their new adventures. A truly unforgettable trip.
Thanks to the ever optimistic staff for making the trip happen, the parents for completely embracing this opportunity and entrusting their children to our care and most of all to the pupils who (literally) jumped into the trip with both feet and whose company we all enjoyed immensely.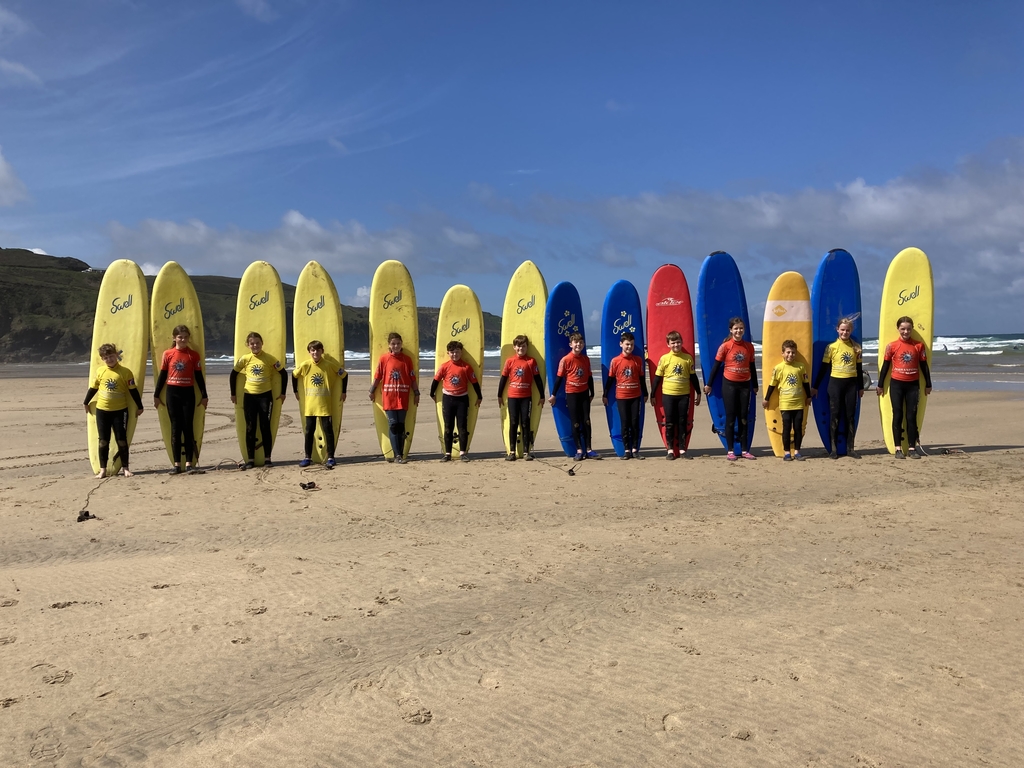 Leavers' Assembly
Leavers' Assembly will take place on Friday morning as planned which is very good news. All pupils will be able to participate in this outdoor gathering, although they will remain in their class bubbles throughout.
In line with DfE guidance, school will be able to offer each Year 6 family 2 seats only which will mean that we do not exceed the legal maximum of 30 guests. There are no exceptions to this rule as we will be at full capacity. The assembly begins at 9.30am and you will be able to take your seats in plenty of time - please observe social distancing rules at all times. The forecast is good!
There is no family picnic due to Covid restrictions but parents may collect their children from 1pm. School will remain open until the normal time.
Sports' Day
Children should come into school tomorrow in their PE kit ready for Sports Day - they can wear a plain t-shirt of their house colour but this is optional and we expect to see a mixture of white PE t-shirts and house colour tops.
Whilst we are delighted that our Sports' Day will go ahead as a whole school event and that the children will be able to compete for their house with children from across the school, the event must take place without an audience. The school would respectfully request that you do not use the park whilst Sports' Day takes place so that it can go ahead safely.
The forecast looks good so please make sure your child has a sun hat, suncream and a water bottle.
The school day will finish at the normal time.
Year Group Photos
We were treated to some sunny weather for our year group photos and these can be viewed and ordered by following this link:
http://popisterling.shootproof.com/Grendonschool21
The password to view the photos will be sent via the text service.
I understand that prices can be seen when viewing the photos and that these include postage and packaging. Orders will be delivered to the address specified when completing the on line order (rather than school)