Hello Visitor,
School Photographs
On Monday 28th June (weather permitting), the school has arranged for outdoor, year group photographs to be taken. Popi Sterling, who has worked with the school for a number of years and has taken hundreds of stunning photos of school events and groups, will be the photographer and will use a secure, online gallery for you to view photos and make orders.
Rather than provide consent for the photos, we are asking that parents make the school aware (via email ) before Monday if they do not wish their child to be included in their year group photographs (which will appear on the password protected gallery for a time limited period only).
The forecast is now looking a bit worse than it was earlier in the week and so we may postpone to another day but for now we will stick to Monday.
NB These will not be for individual or sibling photos, just informal year group photos
Books, Books And More Books!
You may remember that FOGS organised a very successful event which generated an awful lot of money to buy new books for school. The success of the event meant that Usborne were able to gift the school with some free books and the total (Covid delayed) order for £960 worth of books finally arrived today! Teachers put together the order which includes a range of fiction and non-fiction texts, games, puzzles and jigsaws for the whole primary age range.
A huge thanks to FOGS for making all of this happen - please continue to support FOGS events as they really do provide vital funds to help our school run smoothly.
These are just a few of the books that arrived in school today.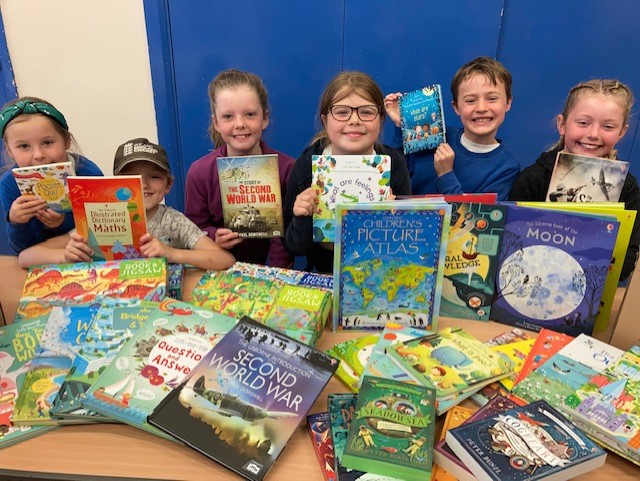 Covid-19: PCR Testing
There has been a noticeable increase in the number of children attending school with Covid symptoms. As we hoped would be the case, the handful of children sent home with Covid symptoms for PCR testing have subsequently (and thankfully) returned a negative test and have been able to resume school immediately.
As we approach a particularly busy time of the school year, with residential trips happening imminently and many family holidays booked for the start of the holidays, it is so important that we continue to mitigate the risk of Covid infection. So far, the school precautions which have been so well supported by our school community have kept our school extremely safe and, aside from keeping everyone well, we would like to head into the last part of the year and the summer holidays with no significant disruption to our plans.
If a child presents in school with any of the 3 symptoms listed below, consistent with NHS guidance on testing that has been in place throughout the pandemic, they will be isolated from the group and parents will be asked to collect them immediately and take them for a PCR test. PCR tests are easy to book and the 4 most recent tests given to pupils have all returned results within 24 hours. As soon as you have sent confirmation of the negative result, we are very happy for your child to come back to school.
Coronavirus (COVID-19) symptoms in children
Children can get coronavirus (COVID-19), but they seem to get it less often than adults and it's usually less serious.
The main symptoms of COVID-19 are:
a high temperature
a new, continuous cough
a loss or change to sense of smell or taste – this means they cannot smell or taste anything, or things smell or taste different to normal
What to do if your child has symptoms
If your child has any of the main symptoms of COVID-19:
Get a PCR test (test that is sent to a lab) to check if they have COVID-19 as soon as possible
You, your child and anyone else you live with should stay at home and not have visitors until you get the test result – only leave your home to have the test.
Anyone in your childcare or support bubble should also stay at home if your child has been in close contact with them since their symptoms started or during the 48 hours before they started.
Rubbish!
A message from the Parish Council:
Unfortunately the rooks have been emptying the rubbish bin at the playing field and leaving a terrible mess. The council are looking into replacement bins with lids but in the meantime please could you take your rubbish home if possible (especially nappies!).