Hello Visitor,
Co-op Local Community Funding
Thanks to Mrs Broadhead and Co-op Local Community Funding, the school has £200 to spend on our Early Years outdoor area! Top of Miss Hillman's wish list is a balance bike or two and we will see how far we can stretch the rest of the funding. With the nicer weather on the way, there is no better timing.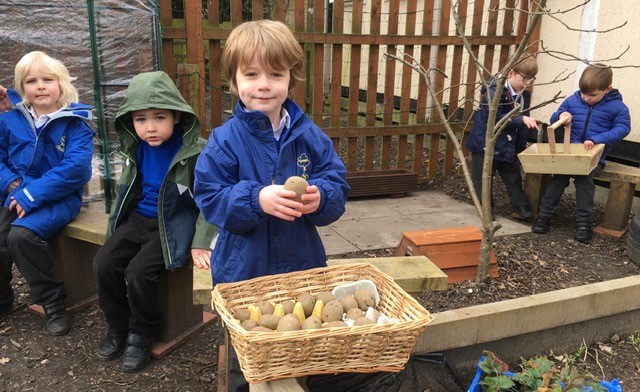 Easter
In the absence of an Easter church service, Rev Morna very kindly recorded a video which teachers have shared with their classes this week to support their work on Easter.

Rev Morna has also signposted a link which explores what happened in Holy Week and invites children to take part in an Easter Egg Trail. The trail will be available from Palm Sunday until Easter Sunday and children and families are encouraged to add something to the Easter garden in the churchyard at St Mary's. The trail can be accessed at anytime during Holy Week and the location of the first clue for each village can be found on this website:
http://www.yardleyhastingsbenefice.co.uk
Red Nose Day - Mufti
Last Friday was Red Nose Day and, thanks to your generous donations, the school was able to send off £178 towards the grand total.
Year 5/6 were slightly miffed to have Mufti Day on a PE day which limited their choice of clothing from sequins and heels to leggings and comfy trainers and so we are declaring this coming Friday - the last day of term - as another Mufti for all pupils (Year 5/6 do not have PE this Friday). No donations necessary this time.
Harmony Day
Harmony Day is celebrated in Australia on 21st March each year. It is a time for all Austrlians to remember and respect their diverse cultural backgrounds and share what they all have in common. As part of their curriculum studies, Year 1/2 embraced Harmony Day and had a blast!

Parking
I am sure I'm not the only one to have noticed the coincidence between schools reopening and every set of temporary traffic lights suddenly appearing on our local roads. With Church Way shut and 3-way traffic lights working their way slowly around the village, traffic congestion is high and parking spaces are limited, particularly around the end of the school day. With that in mind, it seems like a good opportunity to remind parents to drive and park considerately so that children and parents can arrive at and leave school safely.
The school is happy for parents with mobility issues to use the staff car park entrance as a safe drop off zone. If you do not have mobility issues, please leave this space free regardless of how busy it is elsewhere.
Congratulations Mrs Gookey!
On Mrs Gookey's behalf, I am delighted to share the happy news that she is pregnant, with her baby due at the end of September.
I will, of course, keep you updated with any staffing changes in due course.