Hello Visitor,
The Great Outdoors
Massive thanks to Mr and Mrs Vaid for their hospitality at Grendon Hall today. The children had a wonderful afternoon exploring the great outdoors. Thanks also to Max's mum for helping on the trip.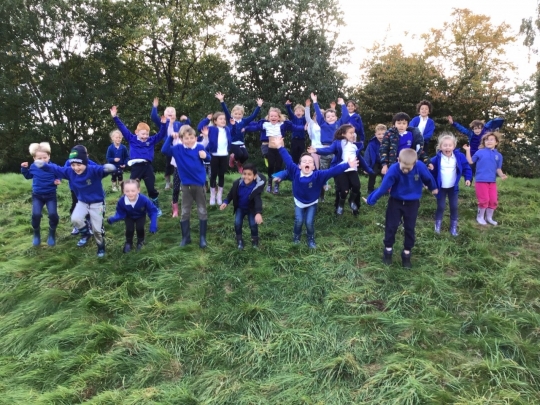 Flu Immunisations
The school nurse team will be visiting Grendon CE Primary School on 10th November to administer the nasal flu immunisation to children from Reception to Year 6. This year, parents must provide consent via the online portal which you can access via the link below. There is also a link to an information leaflet provided by the NHS.
The live consent form will close 7 days before the planned immunisation date. Only those children for whom consent has been granted will receive the flu vaccination in school.
Relationships And Health Education (RHE):
Consultation
Until the School Closure in March, there was to be a duty placed on schools to introduce Relationships and Health Education as a statutory part of the school's curriculum provision by September 2020. As part of this process, schools were asked to consult with staff, parents and governors before launching RHE across the school. Inevitably, the Department for Education delayed the implementation of RHE as a result of Covid-19 but schools are now expected to resume the consultation process.
What are children expected to know?
Appendix 1 of the RHE Draft Policy shows what children are expected to know by the end of primary school. This is listed under 5 key headings of:
Families and people who care about me
Caring relationships
Respectful relationships
Online relationships
Being Safe
How will RHE be taught?
It is the school's intention that RHE will be taught as an important part of the wider Global Curriculum, integrating wherever possible with the overarching curriculum theme.
What will be taught in each phase of the school?
School staff have taken the end of primary school expectations and broken these down into expectations for EYFS (Oak & Acorns), KS1 (Cedar), LKS2 (Pine) and UKS2 (Willow) so that it is clear which elements are covered in which class. This breakdown is shown on the the RHE Curriculum Framework document - please do take a look at what we intend to teach your child.
Can I withdraw my child from RHE?
The RHE Primary School Guide For Parents details which elements of the RHE curriculum are statutory and which parts parents can withdraw their child from.
In our school, standalone sex education sessions will be delivered in Upper Key Stage 2 by a trained health professional and will focus on:
Preparing boys and girls for the changes that adolescence brings
How a baby is conceived and born
It is these sessions only that parents have a right to withdraw their child from. Appendix 2 of the RHE Draft Policy is the form that parents must complete and return should they wish to withdraw their child from these sessions.
It is important to note that the science curriculum also includes content on human development, including reproduction, and these parts of the curriculum are statutory.
_____________________________________________________________
What happens next?
The reality is that much of what is included within the RHE curriculum is already taught in school and so it is unlikely that children will notice a huge difference as they are already familiar with themes like relationships and online safety. Nonetheless, it is important to gather your views so that they all been taken into consideration as we formalise our whole school approach.
I would be very grateful if you could read the above information and the hyperlinked documents and provide any feedback to me at by Friday 23rd October.
RHE Primary School Guide For Parents
Get Active
Get Active will be running an October Camp over half term. All details can be found here.
Term Dates
School term dates for the 2020-21 academic year are always available on the school website and can also be found here
The school will be closed for a teacher training day on Friday 23rd October - the last day of this half term.
Message From NCC For Parents Of Children In Year 6
Primary schools in the county were this morning sent a reminder about secondary school admissions which I have attached here. The Northamptonshire Admissions Team invite any enquiries about the process and their contact details can be found in the letter.