The last few weeks have represented a huge challenge for all of our school community. In amongst the numerous and complex issues that families are experiencing as a result of Covid-19, parents have either had to make difficult decisions about whether to send their children back to school or, for those not in the DfE's priority year groups, arrange provision for them outside of school.
In preparation for the phased re-opening of school, staff worked incredibly hard to create a safe and warm environment for the returning pupils, unsure of quite what to expect on the 1st June but fully equipped to deal with any eventuality. May half term become a military operation to write and implement the risk assessment and overhaul the physical space in school.
It is testament to the professionalism of the staff and the commitment and support of parents that the returning children settled almost instantly, observed the new rules and flourished in their new environment. Over the last fortnight, I have received a large number of emails from parents with consistent with our own pleasing observations of the children in school. I've copied in a couple of anonymous examples below:
I just wanted to say that my children love being back at school! Thank you to all of the staff for making it such a calm and smooth return for them I feel really blessed that they go to Grendon.
I'd like to thank you for putting yourself out there to help my children get back to some normality with this awful virus being about and and for letting me be a mum again. I take my hat off to you for what you do day in day out with these little people. I am very thankful.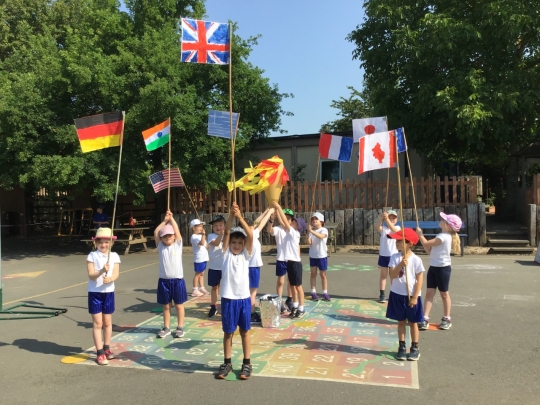 Year 1 children enjoying their Olympics opening ceremony this week as part of their curriculum theme of Greece
I am delighted that virtually all available spaces in the school are today full and that, overall, nearly half of the total school population are back in school. I cannot wait for all of the children to return to school in September!
There are, of course, many children who have not been able to return to school for various reasons - many children would love to return but are not in the DfE's priority year groups, others are shielding, some who remain anxious about Covid-19 have simply decided to make a fresh start in September. The school fully respects the rights of individual families to make the correct decisions for their children and their unique circumstances - there is rarely a one size fits all answer and parents must do what they believe is right.
As I mentioned before, it is heart-breaking that our Year 6 cohort have missed out on so much. Rightly or wrongly, the vast majority of children actually enjoy SATs - for many, it provides an opportunity to celebrate how much they have achieved over the last 7 years of primary education and gives some kind of closure on their time at Grendon before paving the way for their long awaited residential to Cornwall. I must admit that I spent part of last Tuesday morning looking longingly at Perranporth webcam, wishing I was surfing with the Year 6s and playing games with them on the beach. School staff are upset that they could not share this special time with the children but we are, of course, mainly so sad for them individually, that they will forever be the Year 6 cohort whose final year of primary effectively ended on March 20th 2020 through no fault of their own.
As we approach the last 3 weeks of term, the usual celebrations that take place in schools up and down the country to mark the end of the year have been turned upside down. Even something as simple as our summer family picnic cannot happen, with government guidance from 4th July, stating that 'it will be against the law to gather in groups larger than 30 people.' Whilst the numbers of children in Early Years, Year 1 and the key worker group have flourished since school reopened, the vast majority of Year 6s chose not to return to school, which mirrors the overall uptake of Year 6 places in schools across the country. The Leavers' Assembly which would normally be the culmination of a final half term full of dancing, singing and planning in school will instead be replaced by a more informal Zoom call pencilled in for Thursday of the final week of term, where children will have the opportunity to play games, share memories, photos and stories from their time at Grendon (Mrs Gookey will contact Year 6s about this again shortly). Transition arrangements continue this term for all children, whether they are joining the school in Early Years, moving to a new class or taking the step up to a brand new school. The expectation is that September will bring with it a full school of happy and settled pupils!