Hello Visitor,
School Return Surveys:
Reminder
Although there are tight restrictions around how schools currently operate and limitations on the school's capacity which prevents it from opening to all pupils. the school is actively seeking ways of opening to as many pupils as possible.
From 1st June, provision was created in school for all pupils in each of the prioritised year groups. The graphs below show the average attendance of pupils in each of these groups (blue = % present; orange = % absent). The number of children who are attending continues to fluctuate but it is apparent that numbers in Year 6 seem to have followed the local and national trend by remaining consistently low overall.
Where all or the the majority of the cohort has returned, there is no capacity to introduce additional year groups. However, it may be possible to invite Year 5 pupils back to fill the empty spaces created by the Year 6s who have chosen not to return to school.
In order to plan ahead, the school is consulting with parents via a very short online survey, the link to which was on yesterday's newsletter and is also included below.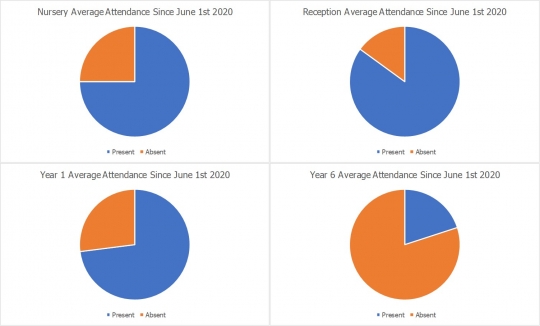 The deadline for responding to the school survey is 5pm tomorrow. After this time, if your child is in one of the priority year groups and you decline your child's space or if you do not respond to the survey, then your child's place may be re-allocated to another child as per DfE guidelines, so that the school can fill the available places.
Nursery, Reception, Year 1 and Year 6 Survey
For parents of children in Nursery, Reception, Year 1 and Year 6 (DfE priority cohorts) please complete the short survey that can be found here
Year 5 Survey
For parents of children in Year 5 only, please complete the survey found here